Презентація на тему «The Bronte Sisters»
---
---
---
---
---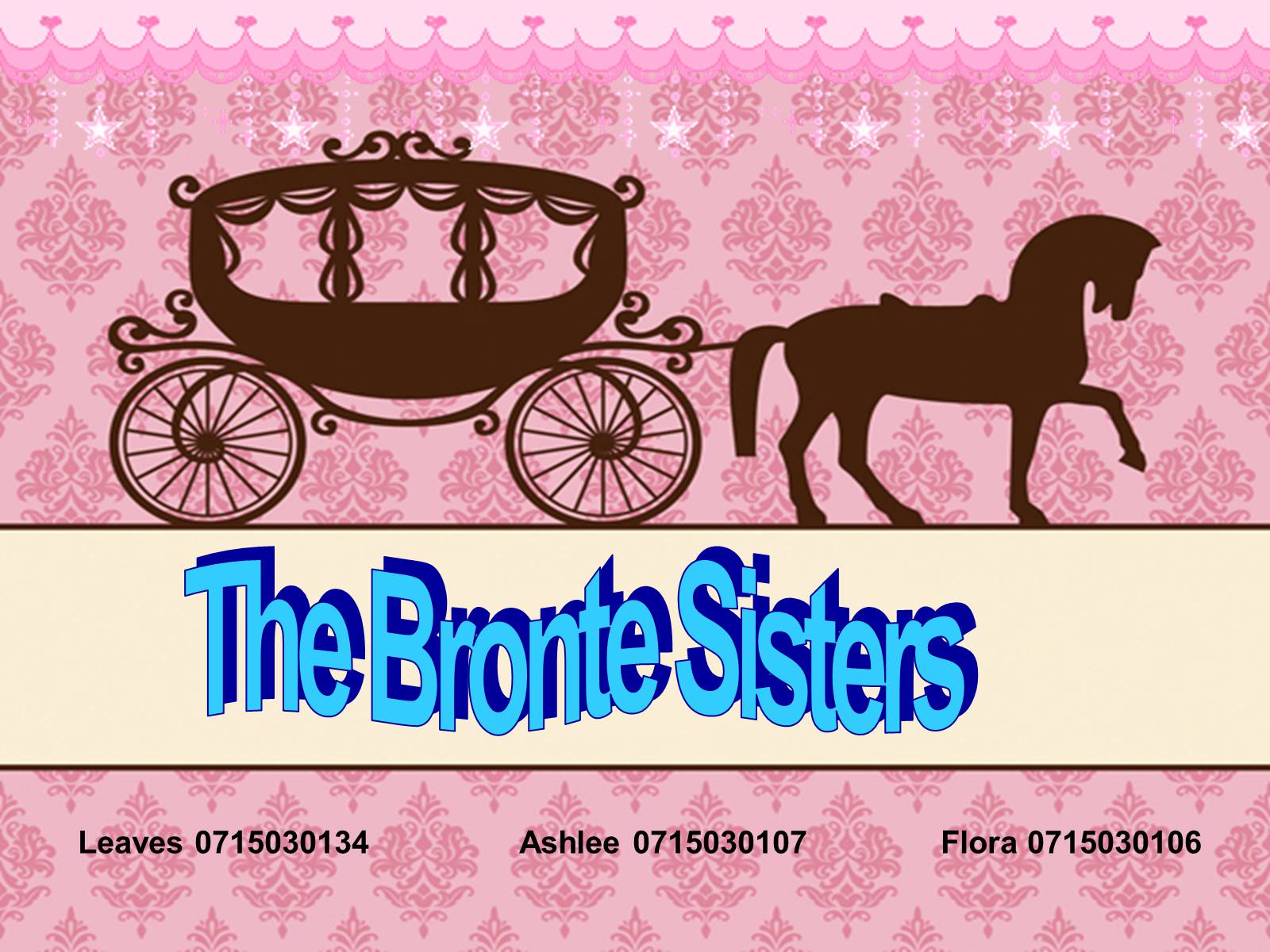 The Bronte Sisters
Leaves 0715030134 Ashlee 0715030107 Flora 0715030106
---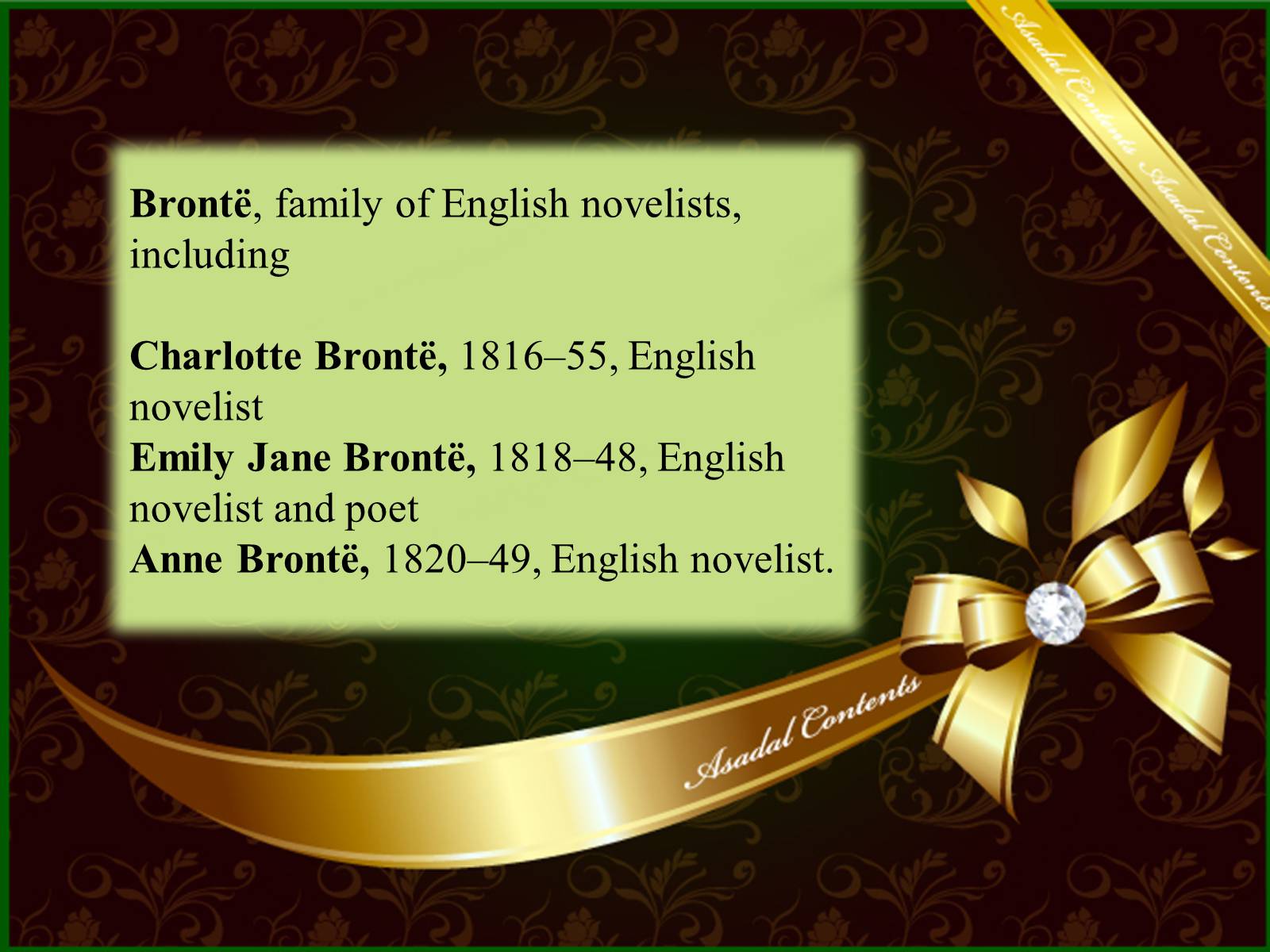 Brontë, family of English novelists, including
Charlotte Brontë, 1816–55, English novelist
Emily Jane Brontë, 1818–48, English novelist and poet
Anne Brontë, 1820–49, English novelist.
---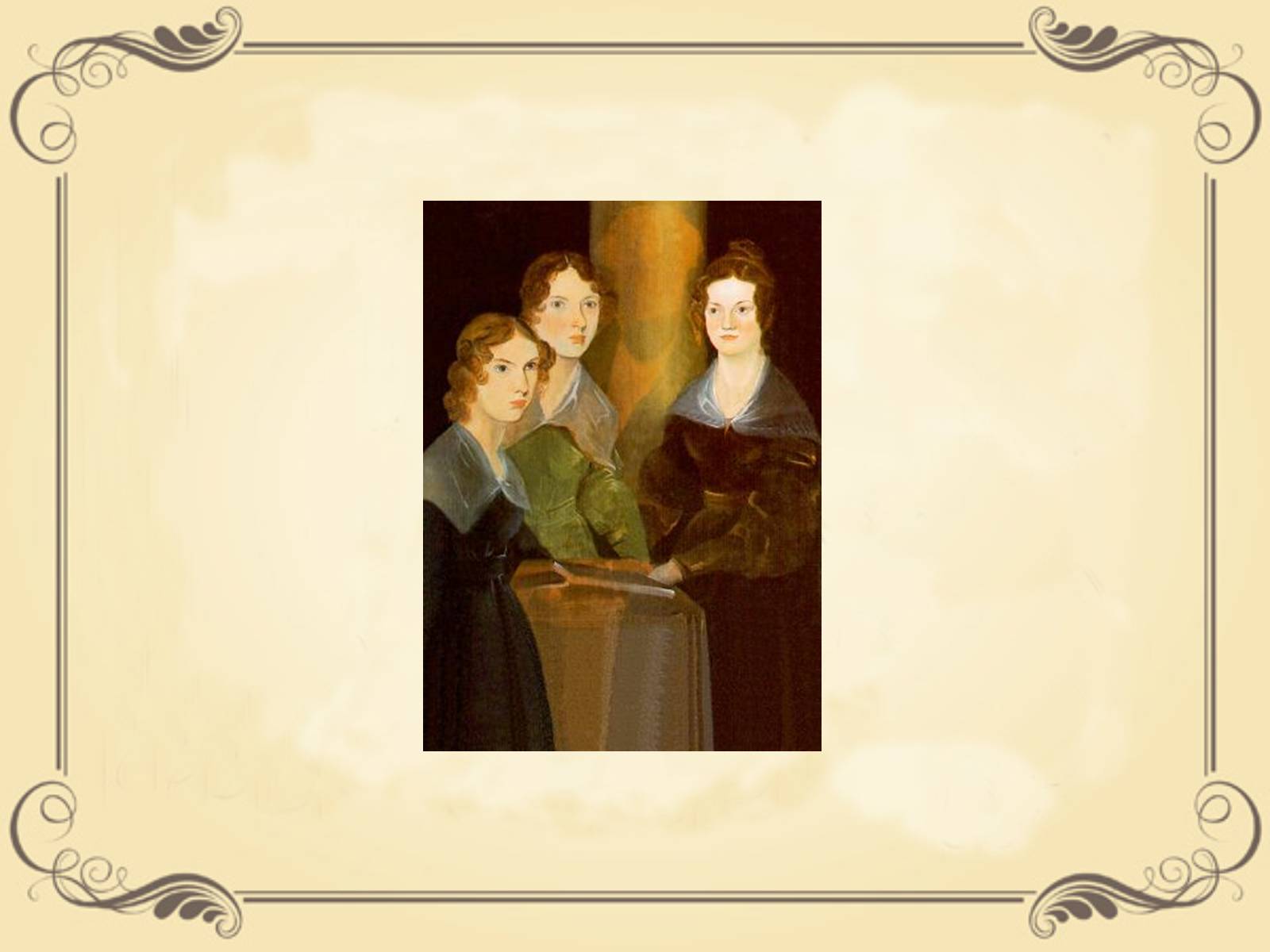 Brontë, family of English novelists, including
Charlotte Brontë, 1816–55, English novelist
Emily Jane Brontë, 1818–48, English novelist and poet
Anne Brontë, 1820–49, English novelist.
---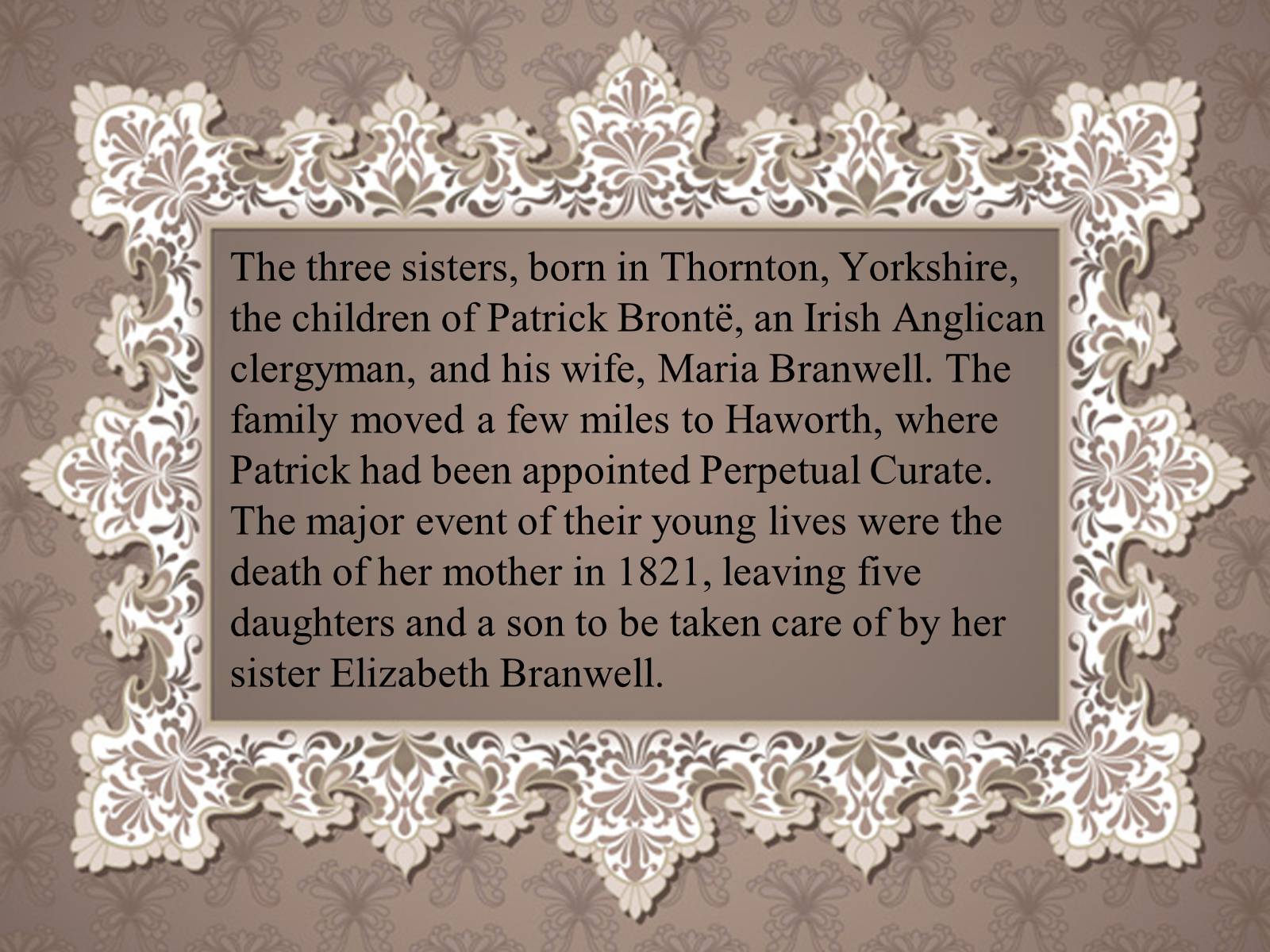 The three sisters, born in Thornton, Yorkshire, the children of Patrick Brontë, an Irish Anglican clergyman, and his wife, Maria Branwell. The family moved a few miles to Haworth, where Patrick had been appointed Perpetual Curate. The major event of their young lives were the death of her mother in 1821, leaving five daughters and a son to be taken care of by her sister Elizabeth Branwell.
---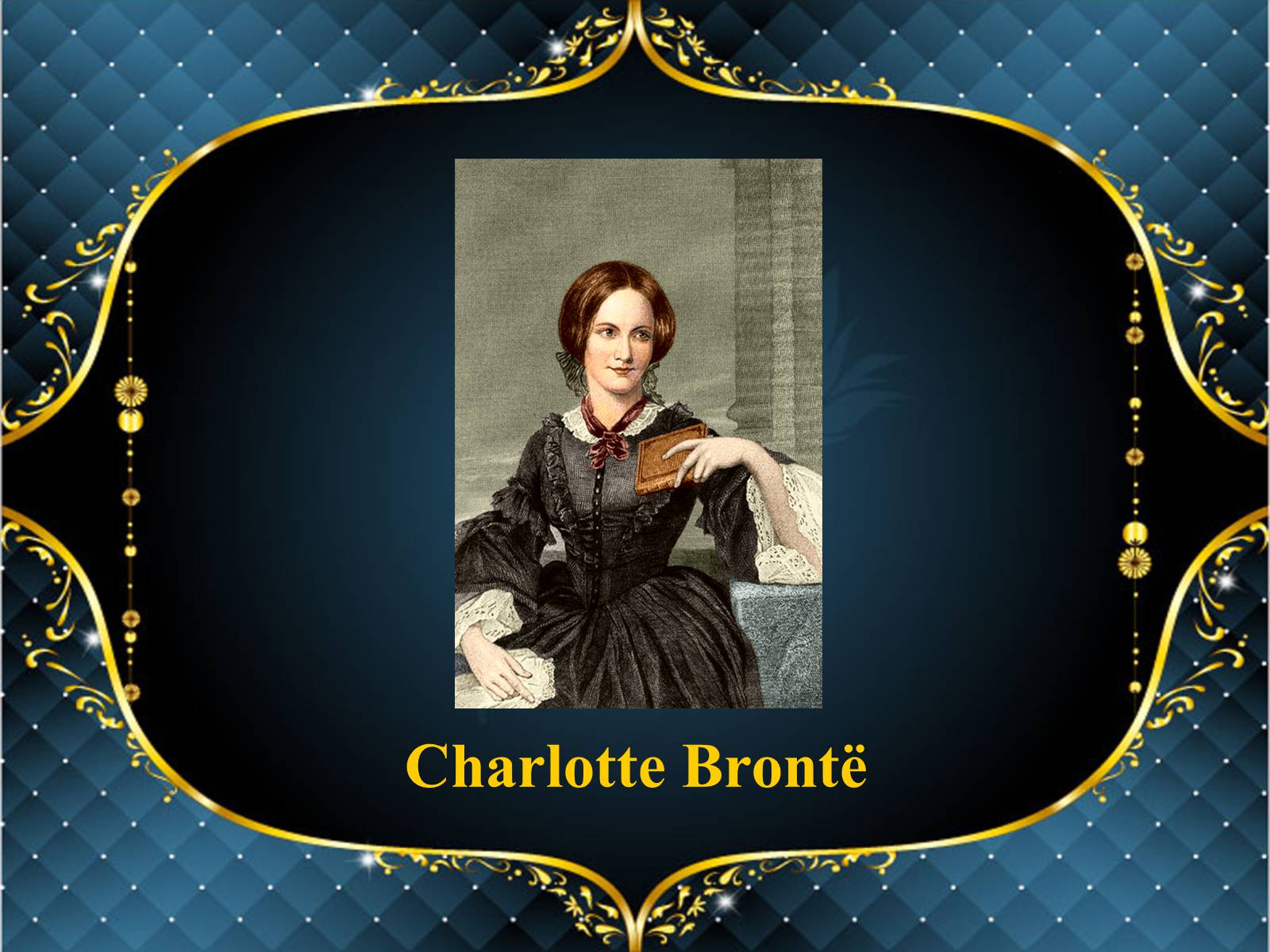 ---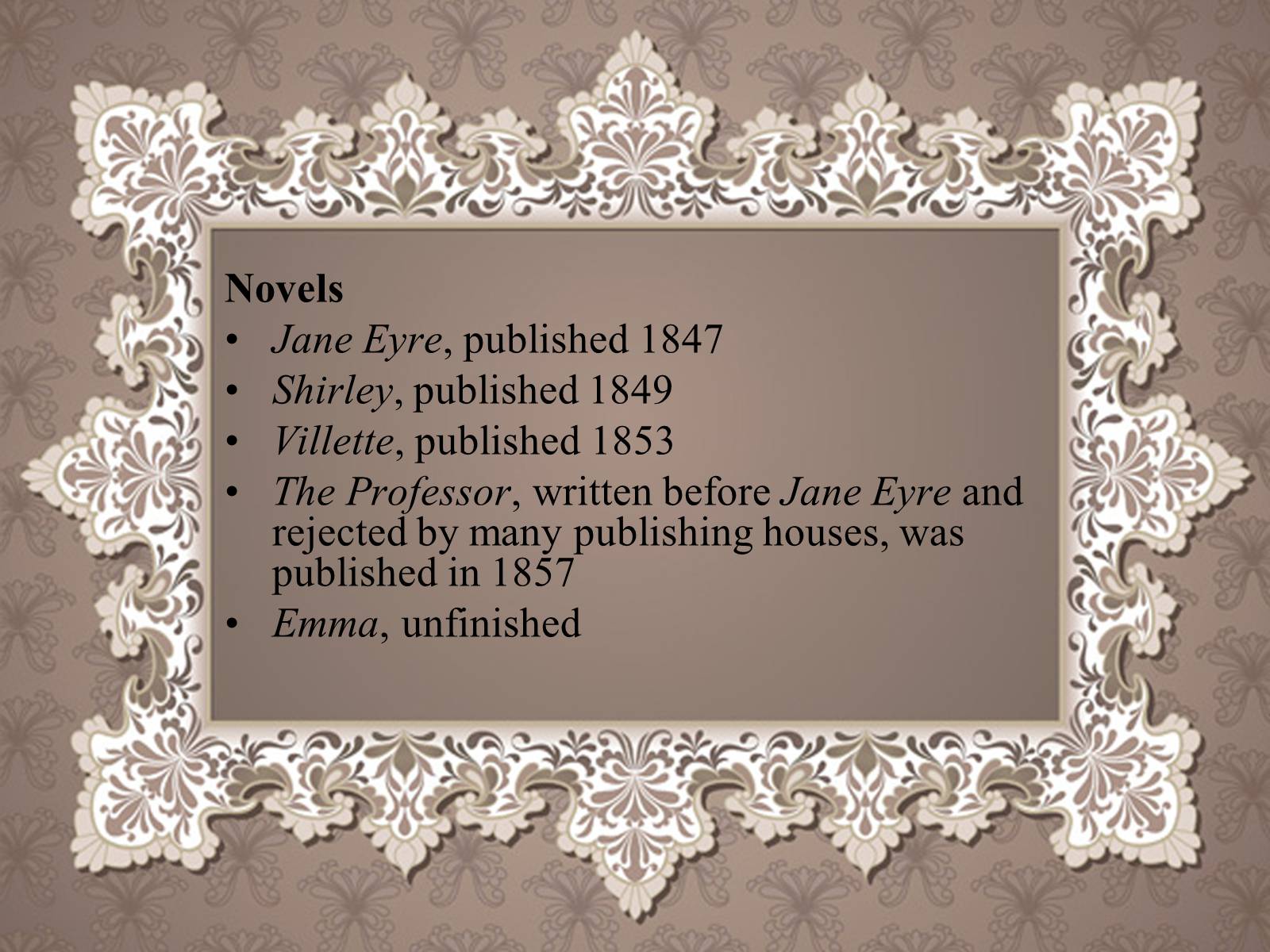 Novels
Jane Eyre, published 1847
Shirley, published 1849
Villette, published 1853
The Professor, written before Jane Eyre and rejected by many publishing houses, was published in 1857
Emma, unfinished
---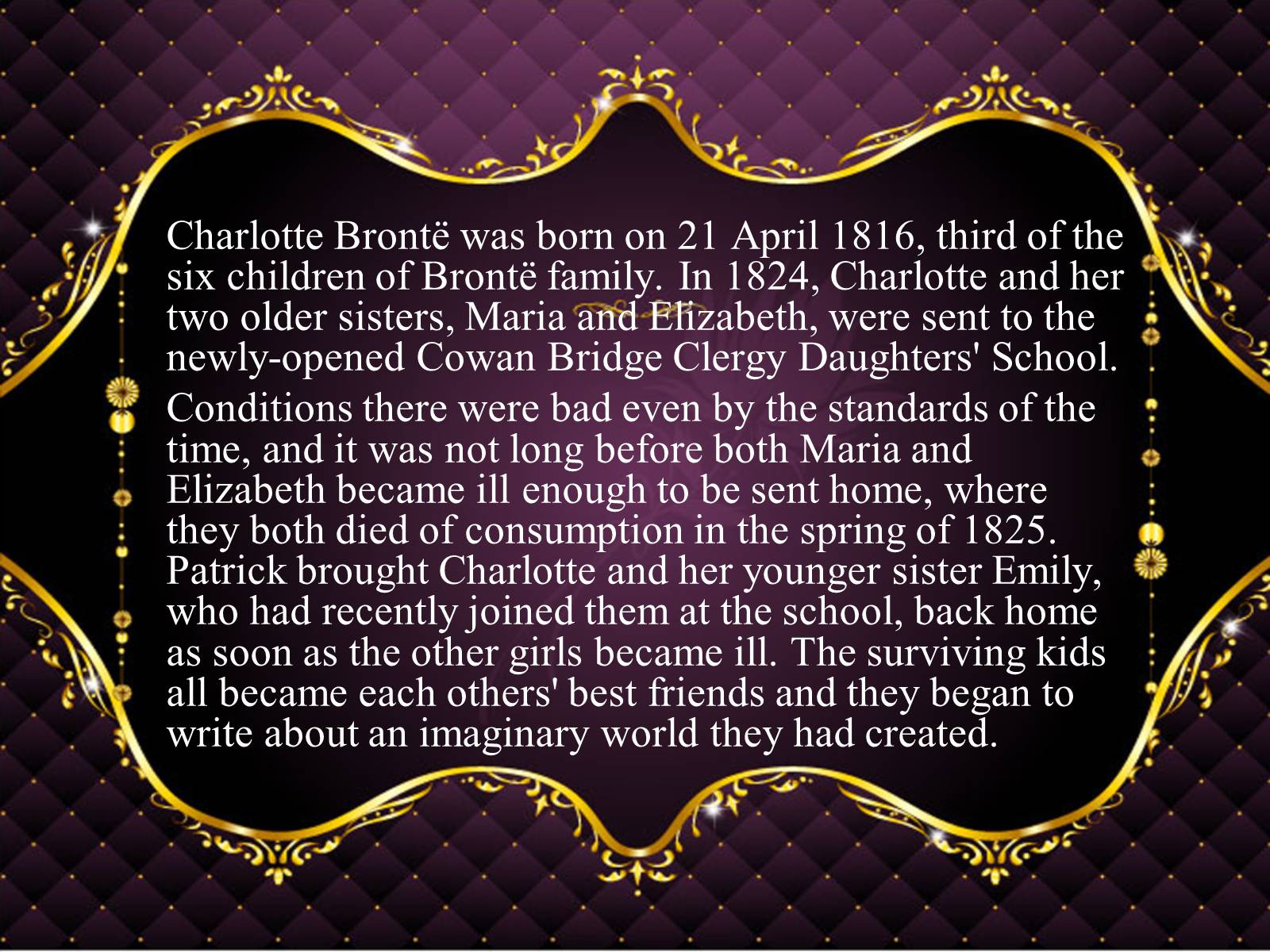 Charlotte Brontë was born on 21 April 1816, third of the six children of Brontë family. In 1824, Charlotte and her two older sisters, Maria and Elizabeth, were sent to the newly-opened Cowan Bridge Clergy Daughters' School.
Conditions there were bad even by the standards of the time, and it was not long before both Maria and Elizabeth became ill enough to be sent home, where they both died of consumption in the spring of 1825. Patrick brought Charlotte and her younger sister Emily, who had recently joined them at the school, back home as soon as the other girls became ill. The surviving kids all became each others' best friends and they began to write about an imaginary world they had created.
---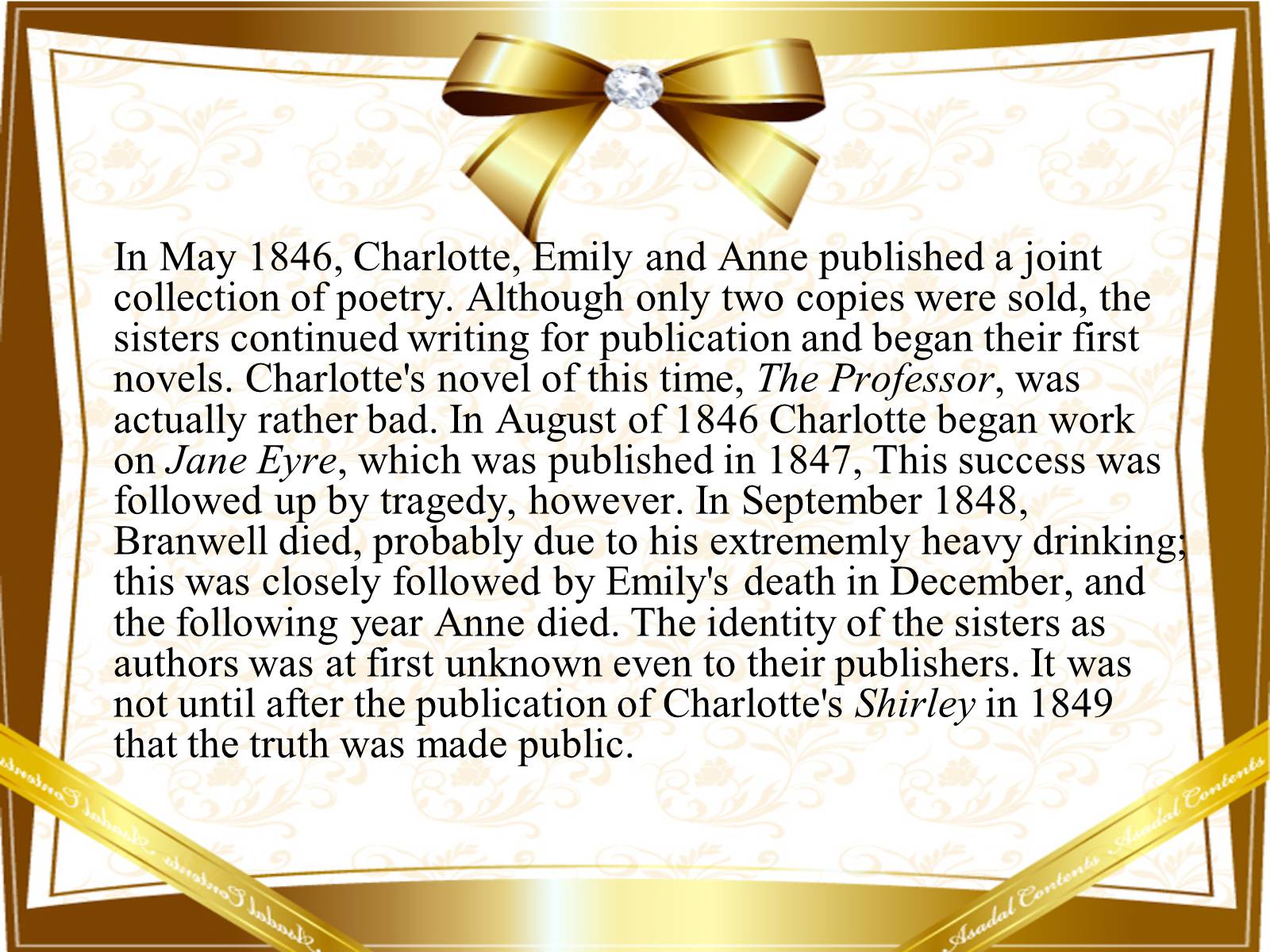 In May 1846, Charlotte, Emily and Anne published a joint collection of poetry. Although only two copies were sold, the sisters continued writing for publication and began their first novels. Charlotte's novel of this time, The Professor, was actually rather bad. In August of 1846 Charlotte began work on Jane Eyre, which was published in 1847, This success was followed up by tragedy, however. In September 1848, Branwell died, probably due to his extrememly heavy drinking; this was closely followed by Emily's death in December, and the following year Anne died. The identity of the sisters as authors was at first unknown even to their publishers. It was not until after the publication of Charlotte's Shirley in 1849 that the truth was made public.
---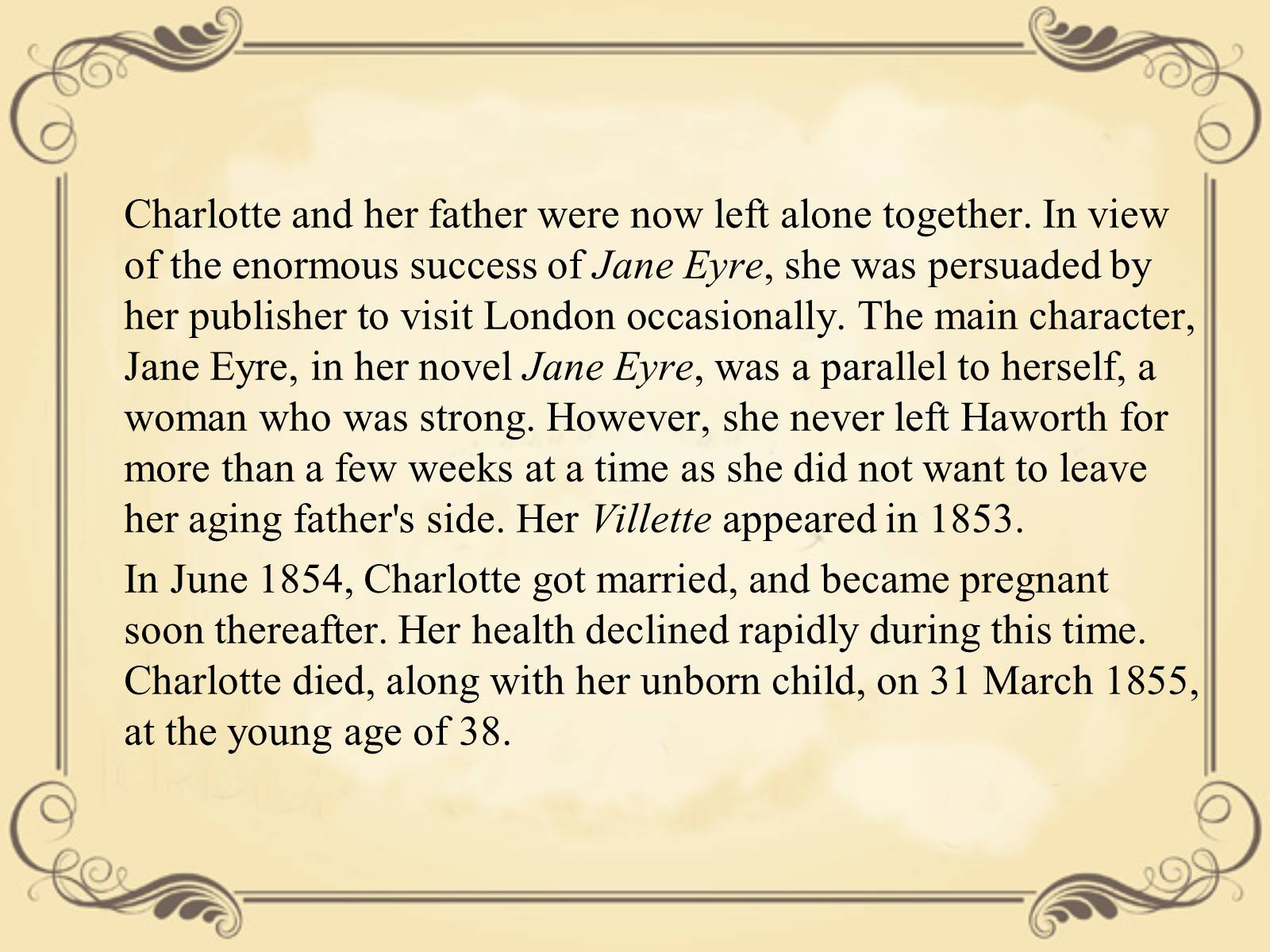 Charlotte and her father were now left alone together. In view of the enormous success of Jane Eyre, she was persuaded by her publisher to visit London occasionally. The main character, Jane Eyre, in her novel Jane Eyre, was a parallel to herself, a woman who was strong. However, she never left Haworth for more than a few weeks at a time as she did not want to leave her aging father's side. Her Villette appeared in 1853.
In June 1854, Charlotte got married, and became pregnant soon thereafter. Her health declined rapidly during this time. Charlotte died, along with her unborn child, on 31 March 1855, at the young age of 38.
---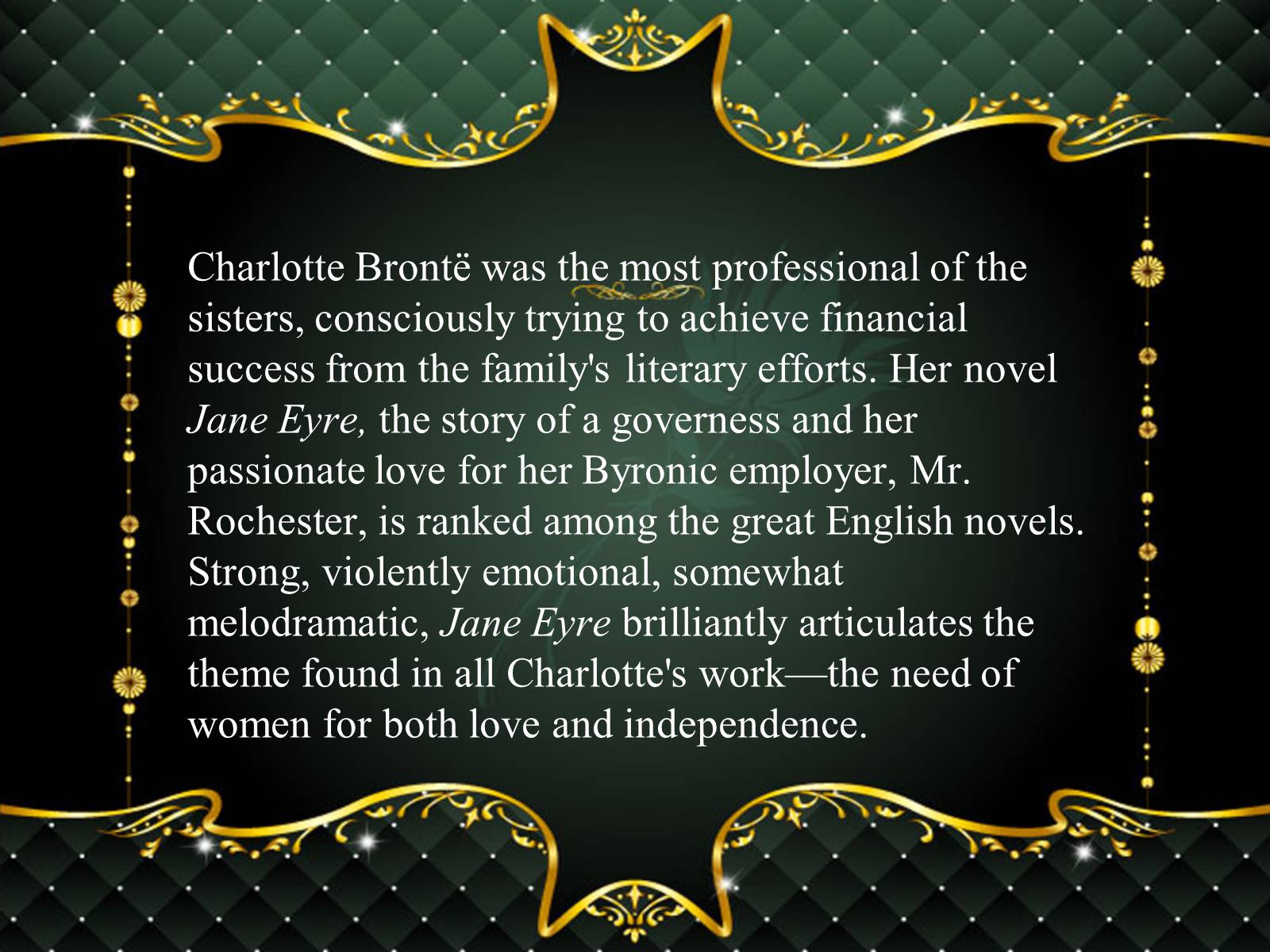 Charlotte Brontë was the most professional of the sisters, consciously trying to achieve financial success from the family's literary efforts. Her novel Jane Eyre, the story of a governess and her passionate love for her Byronic employer, Mr. Rochester, is ranked among the great English novels. Strong, violently emotional, somewhat melodramatic, Jane Eyre brilliantly articulates the theme found in all Charlotte's work—the need of women for both love and independence.
---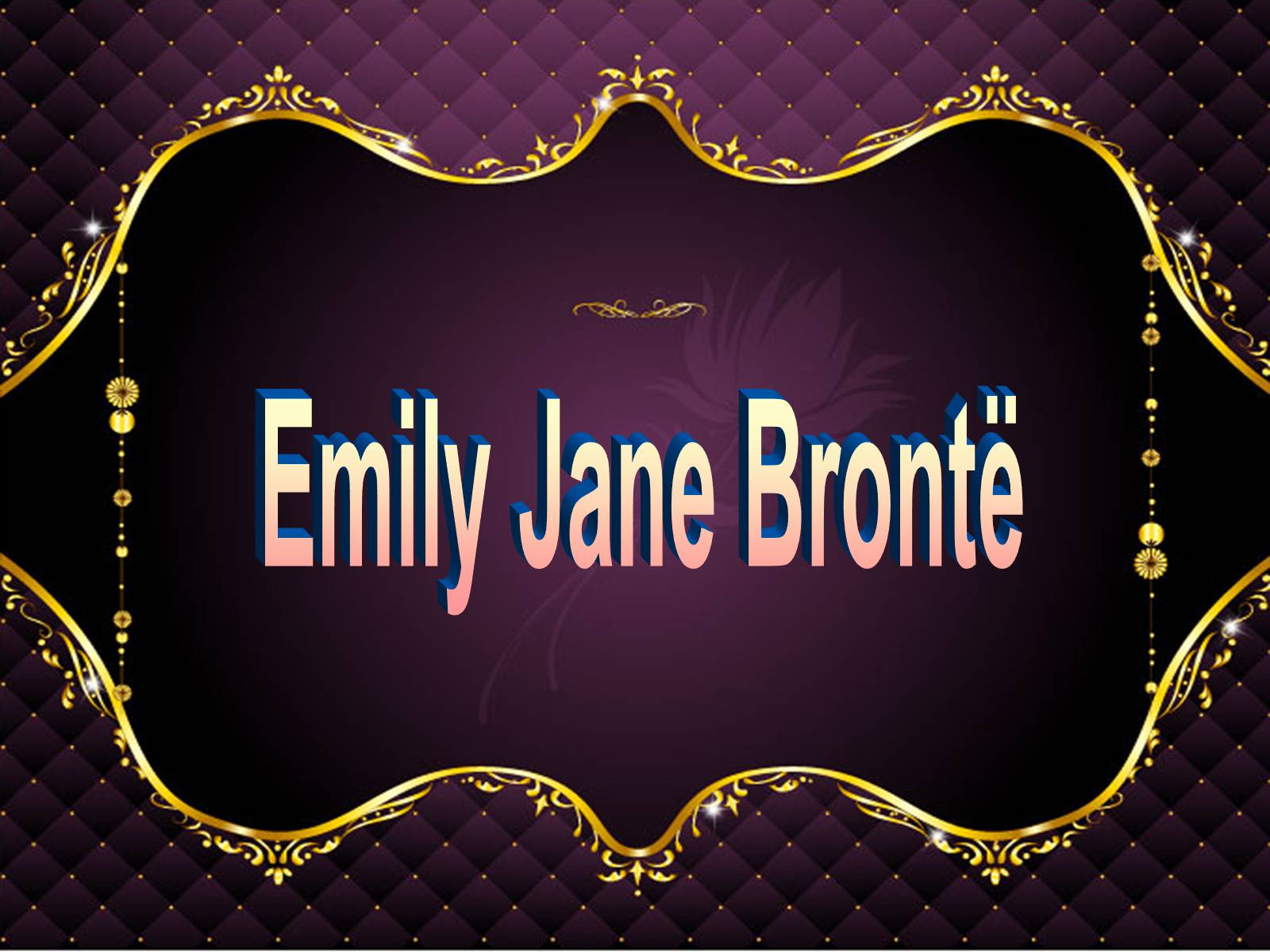 ---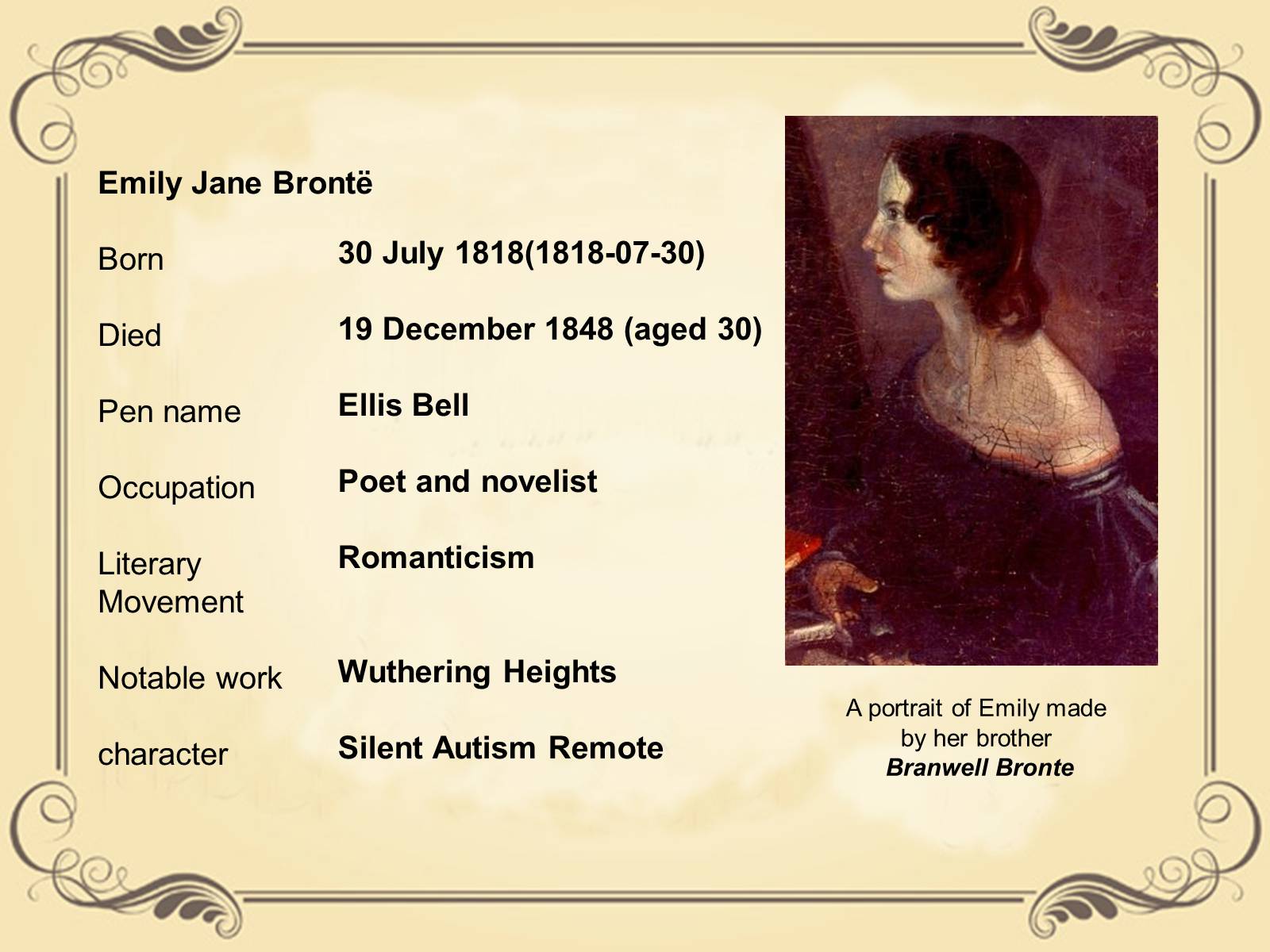 A portrait of Emily made by her brother
Branwell Bronte
Emily Jane Brontë
Born
Died
Pen name
Occupation
Literary
Movement
Notable work
character
30 July 1818(1818-07-30)
19 December 1848 (aged 30)
Ellis Bell
Poet and novelist
Romanticism
Wuthering Heights
Silent Autism Remote
---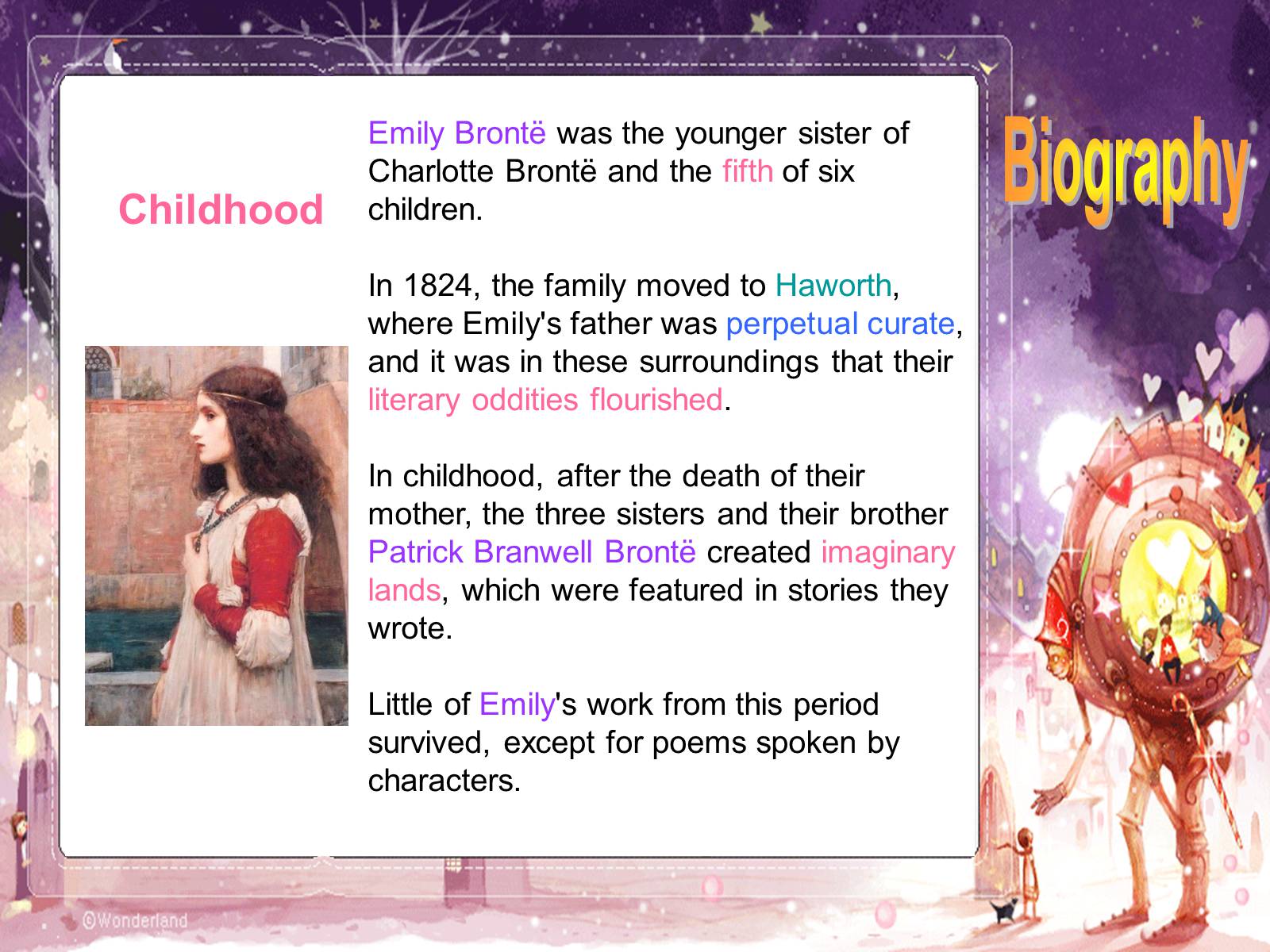 Emily Brontë was the younger sister of Charlotte Brontë and the fifth of six children.
In 1824, the family moved to Haworth, where Emily's father was perpetual curate, and it was in these surroundings that their literary oddities flourished.
In childhood, after the death of their mother, the three sisters and their brother Patrick Branwell Brontë created imaginary lands, which were featured in stories they wrote.
Little of Emily's work from this period survived, except for poems spoken by characters.
Childhood
Biography
---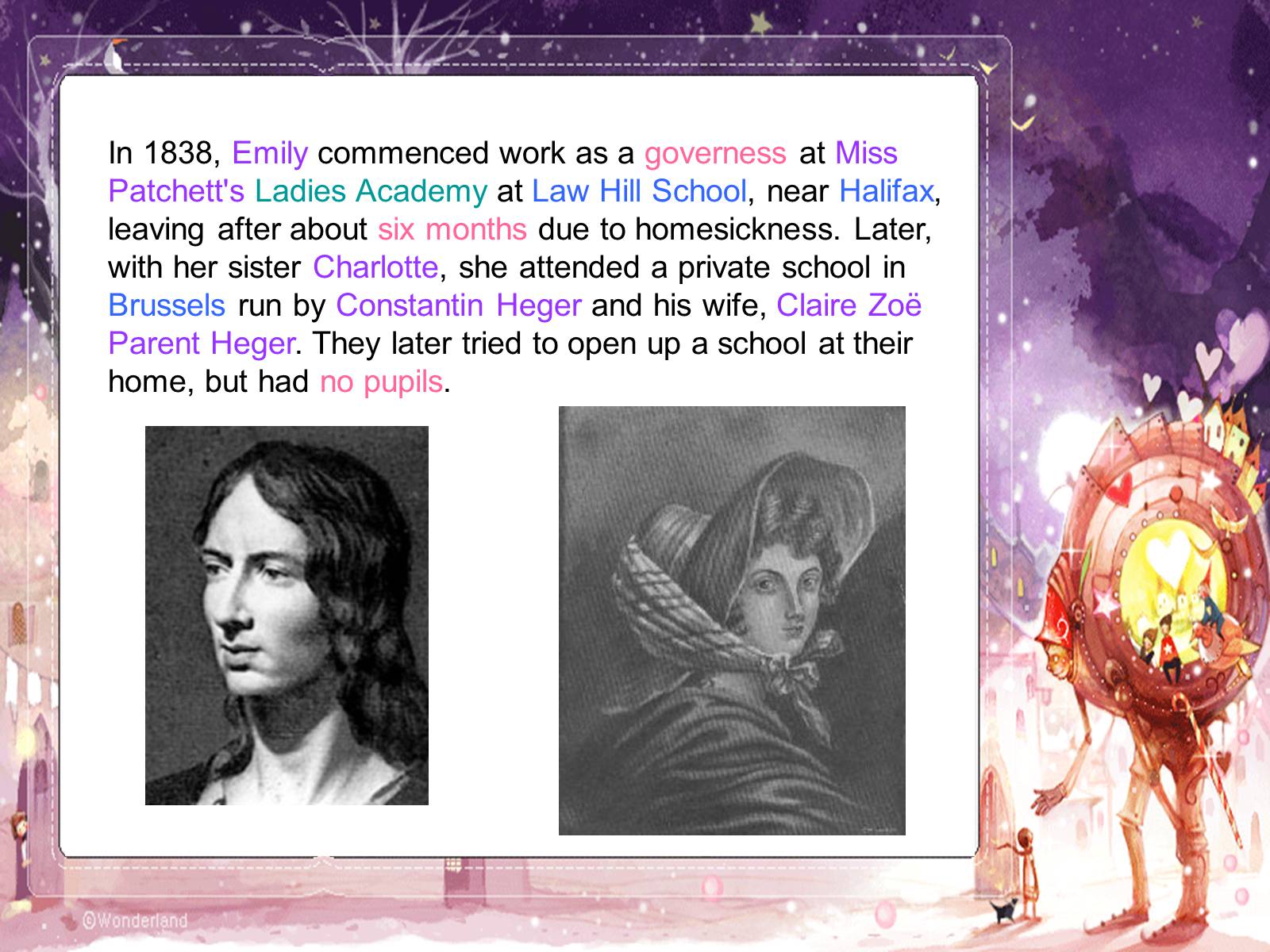 In 1838, Emily commenced work as a governess at Miss Patchett's Ladies Academy at Law Hill School, near Halifax, leaving after about six months due to homesickness. Later, with her sister Charlotte, she attended a private school in Brussels run by Constantin Heger and his wife, Claire Zoë Parent Heger. They later tried to open up a school at their home, but had no pupils.
---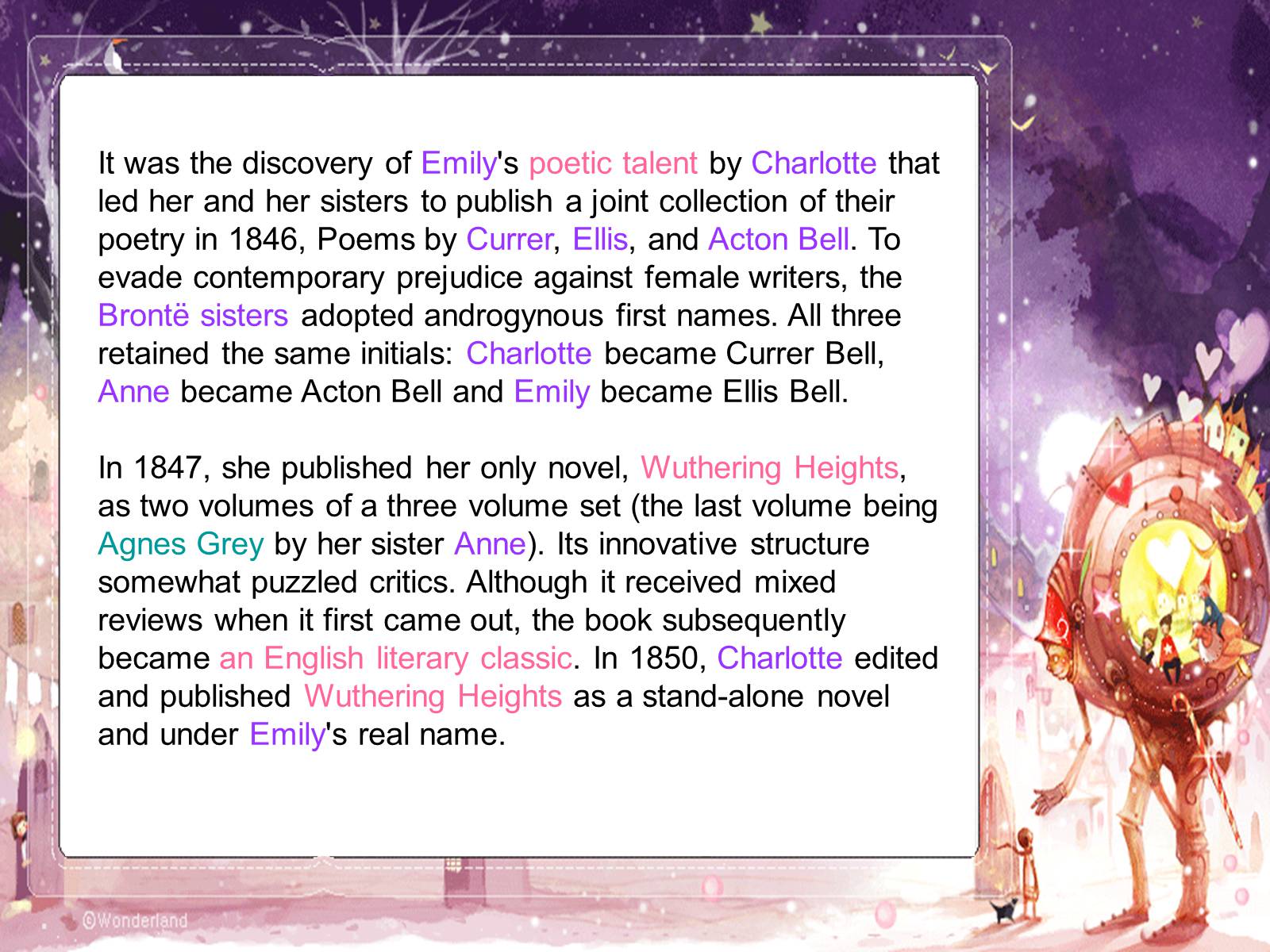 It was the discovery of Emily's poetic talent by Charlotte that led her and her sisters to publish a joint collection of their poetry in 1846, Poems by Currer, Ellis, and Acton Bell. To evade contemporary prejudice against female writers, the Brontë sisters adopted androgynous first names. All three retained the same initials: Charlotte became Currer Bell, Anne became Acton Bell and Emily became Ellis Bell.
In 1847, she published her only novel, Wuthering Heights, as two volumes of a three volume set (the last volume being Agnes Grey by her sister Anne). Its innovative structure somewhat puzzled critics. Although it received mixed reviews when it first came out, the book subsequently became an English literary classic. In 1850, Charlotte edited and published Wuthering Heights as a stand-alone novel and under Emily's real name.
---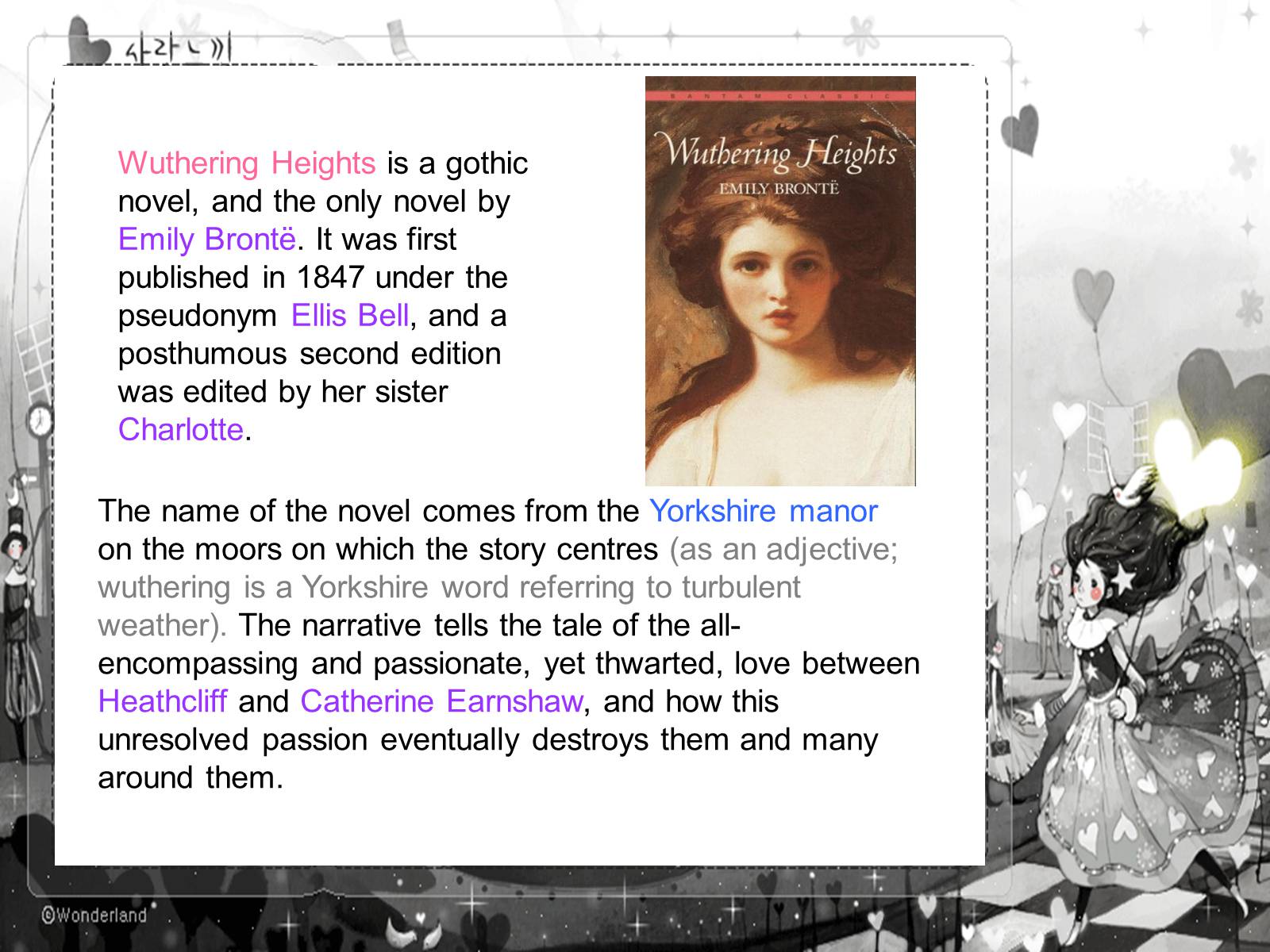 The name of the novel comes from the Yorkshire manor on the moors on which the story centres (as an adjective; wuthering is a Yorkshire word referring to turbulent weather). The narrative tells the tale of the all-encompassing and passionate, yet thwarted, love between Heathcliff and Catherine Earnshaw, and how this unresolved passion eventually destroys them and many around them.
Wuthering Heights is a gothic novel, and the only novel by Emily Brontë. It was first published in 1847 under the pseudonym Ellis Bell, and a posthumous second edition was edited by her sister Charlotte.
---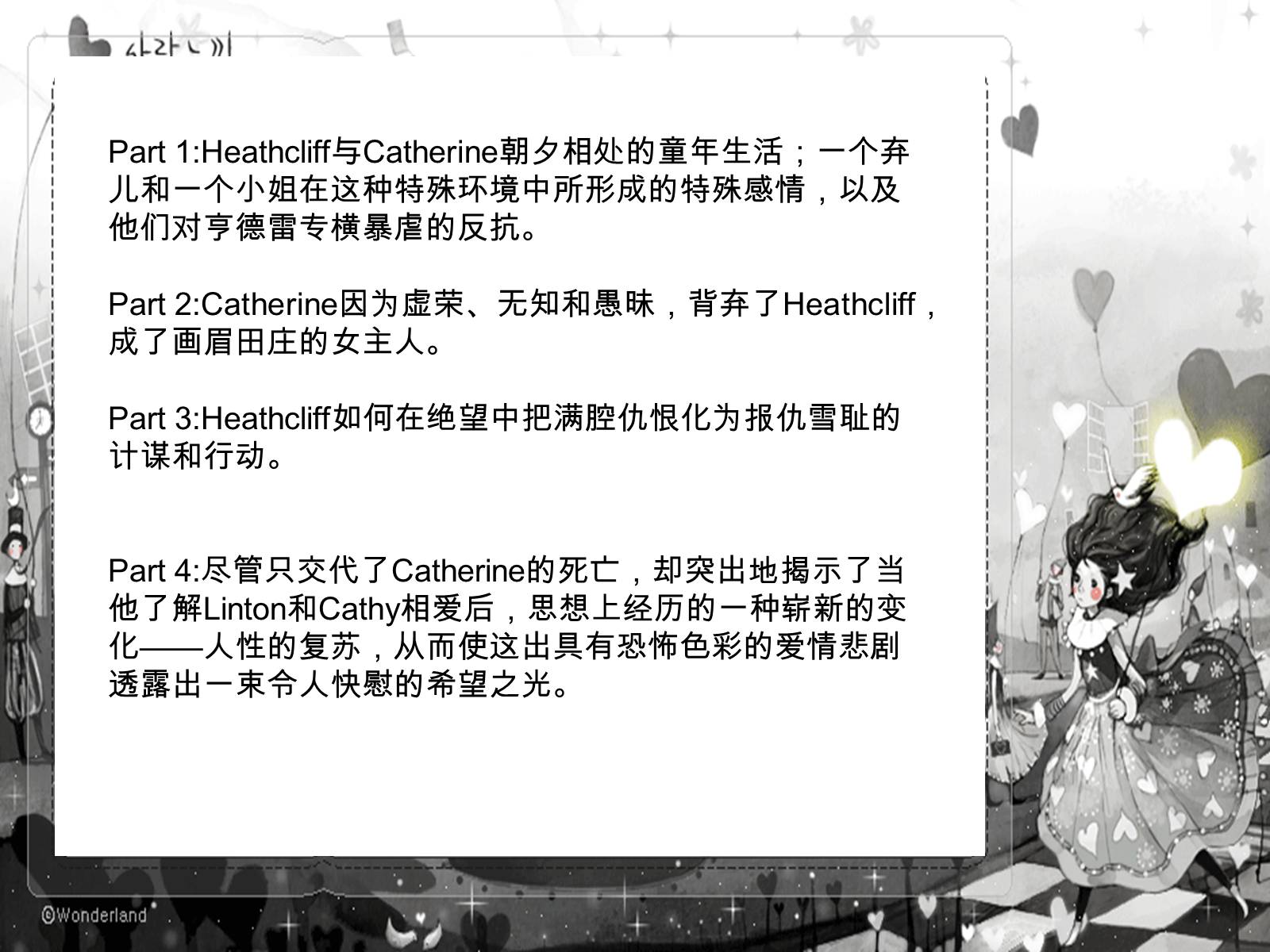 Part 1:Heathcliff与Catherine朝夕相处的童年生活;一个弃儿和一个小姐在这种特殊环境中所形成的特殊感情,以及他们对亨德雷专横暴虐的反抗。
Part 2:Catherine因为虚荣、无知和愚昧,背弃了Heathcliff,成了画眉田庄的女主人。
Part 3:Heathcliff如何在绝望中把满腔仇恨化为报仇雪耻的计谋和行动。
Part 4:尽管只交代了Catherine的死亡,却突出地揭示了当他了解Linton和Cathy相爱后,思想上经历的一种崭新的变化——人性的复苏,从而使这出具有恐怖色彩的爱情悲剧透露出一束令人快慰的希望之光。
---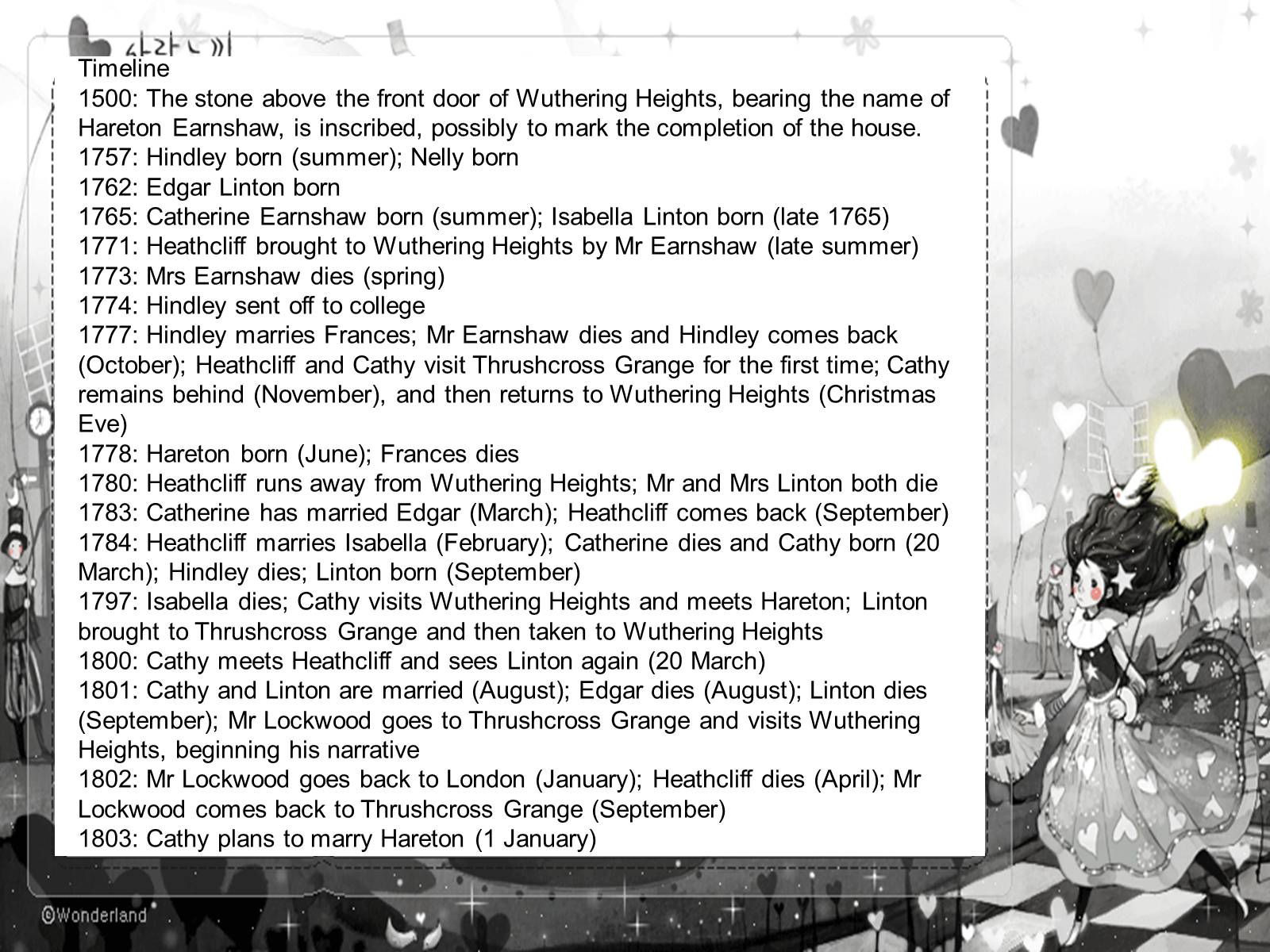 Timeline
1500: The stone above the front door of Wuthering Heights, bearing the name of Hareton Earnshaw, is inscribed, possibly to mark the completion of the house.
1757: Hindley born (summer); Nelly born
1762: Edgar Linton born
1765: Catherine Earnshaw born (summer); Isabella Linton born (late 1765)
1771: Heathcliff brought to Wuthering Heights by Mr Earnshaw (late summer)
1773: Mrs Earnshaw dies (spring)
1774: Hindley sent off to college
1777: Hindley marries Frances; Mr Earnshaw dies and Hindley comes back (October); Heathcliff and Cathy visit Thrushcross Grange for the first time; Cathy remains behind (November), and then returns to Wuthering Heights (Christmas Eve)
1778: Hareton born (June); Frances dies
1780: Heathcliff runs away from Wuthering Heights; Mr and Mrs Linton both die
1783: Catherine has married Edgar (March); Heathcliff comes back (September)
1784: Heathcliff marries Isabella (February); Catherine dies and Cathy born (20 March); Hindley dies; Linton born (September)
1797: Isabella dies; Cathy visits Wuthering Heights and meets Hareton; Linton brought to Thrushcross Grange and then taken to Wuthering Heights
1800: Cathy meets Heathcliff and sees Linton again (20 March)
1801: Cathy and Linton are married (August); Edgar dies (August); Linton dies (September); Mr Lockwood goes to Thrushcross Grange and visits Wuthering Heights, beginning his narrative
1802: Mr Lockwood goes back to London (January); Heathcliff dies (April); Mr Lockwood comes back to Thrushcross Grange (September)
1803: Cathy plans to marry Hareton (1 January)
---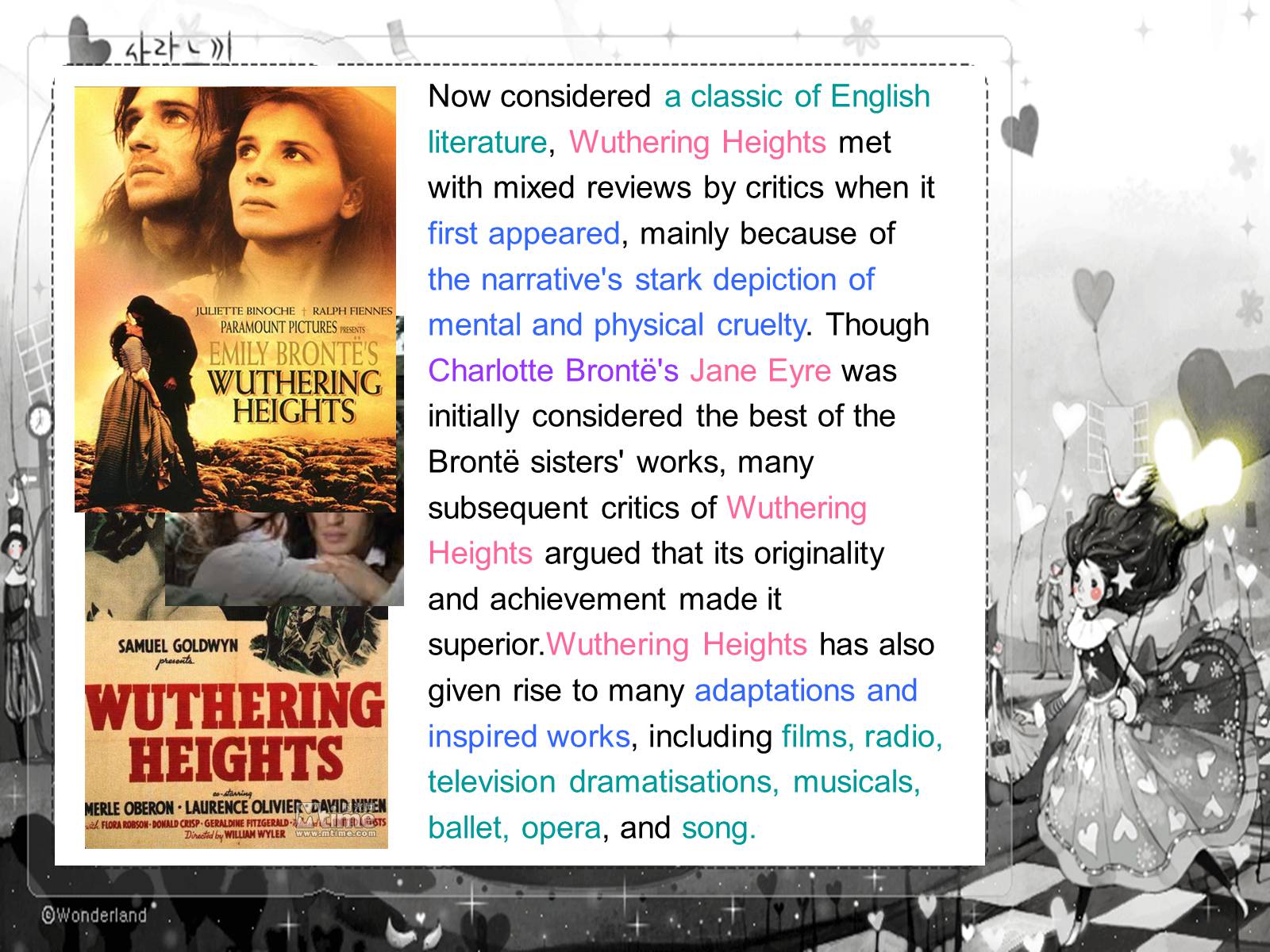 Now considered a classic of English literature, Wuthering Heights met with mixed reviews by critics when it first appeared, mainly because of the narrative's stark depiction of mental and physical cruelty. Though Charlotte Brontë's Jane Eyre was initially considered the best of the Brontë sisters' works, many subsequent critics of Wuthering Heights argued that its originality and achievement made it superior.Wuthering Heights has also given rise to many adaptations and inspired works, including films, radio, television dramatisations, musicals, ballet, opera, and song.
---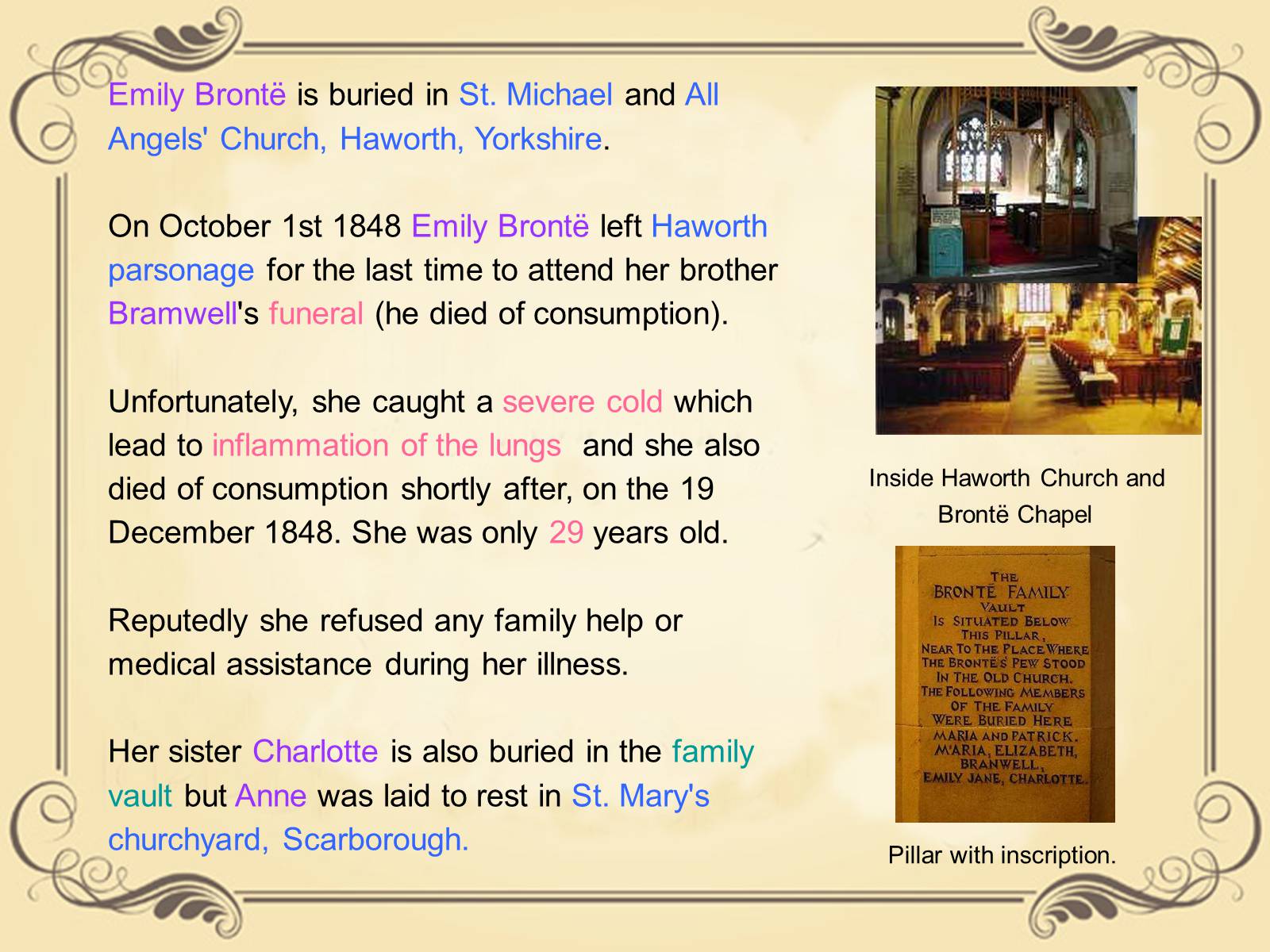 Emily Brontë is buried in St. Michael and All Angels' Church, Haworth, Yorkshire.
On October 1st 1848 Emily Brontë left Haworth parsonage for the last time to attend her brother Bramwell's funeral (he died of consumption).
Unfortunately, she caught a severe cold which lead to inflammation of the lungs and she also died of consumption shortly after, on the 19 December 1848. She was only 29 years old.
Reputedly she refused any family help or medical assistance during her illness.
Her sister Charlotte is also buried in the family vault but Anne was laid to rest in St. Mary's churchyard, Scarborough.
Pillar with inscription.
Inside Haworth Church and
Brontë Chapel
---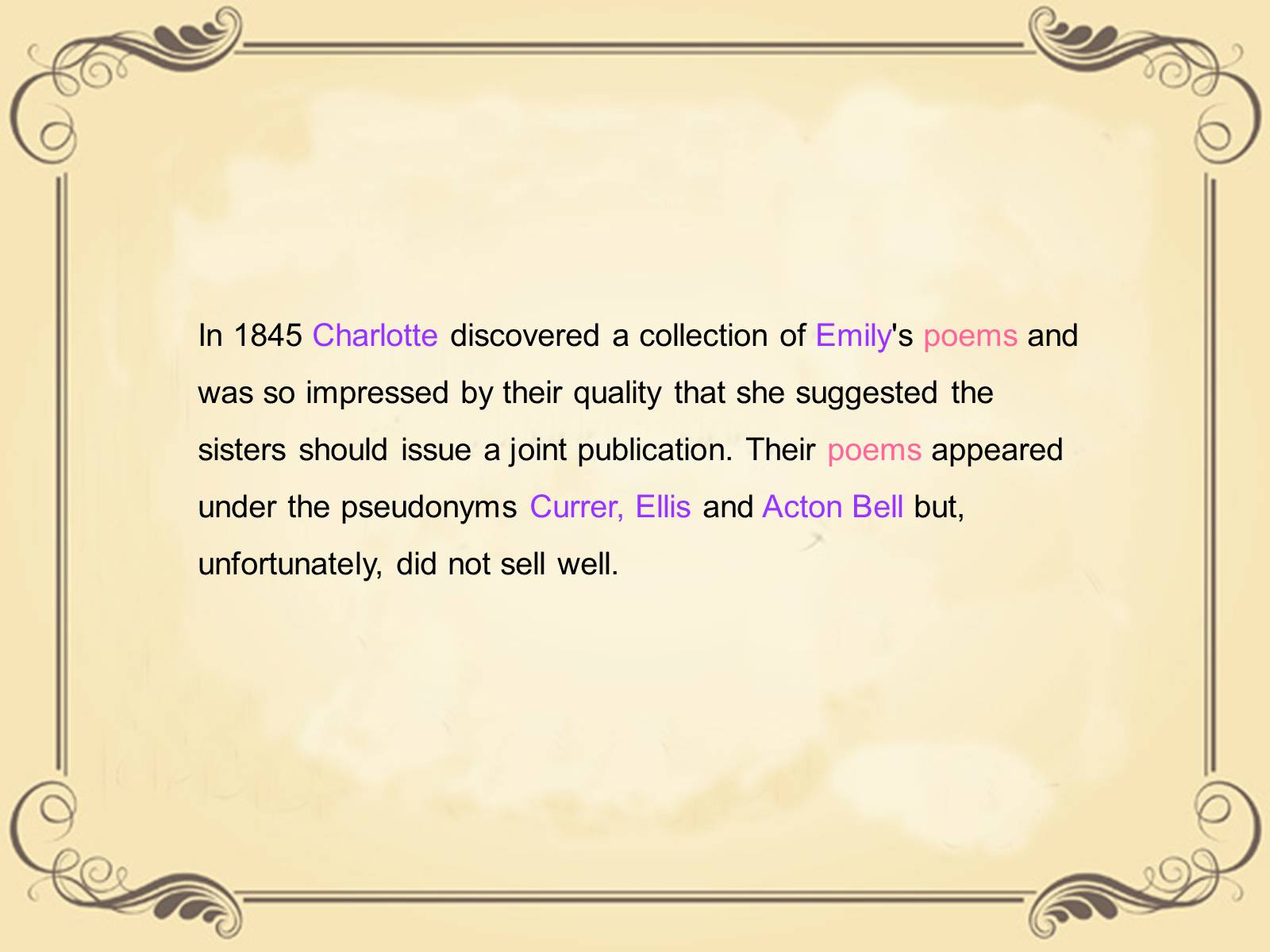 In 1845 Charlotte discovered a collection of Emily's poems and was so impressed by their quality that she suggested the sisters should issue a joint publication. Their poems appeared under the pseudonyms Currer, Ellis and Acton Bell but, unfortunately, did not sell well.
---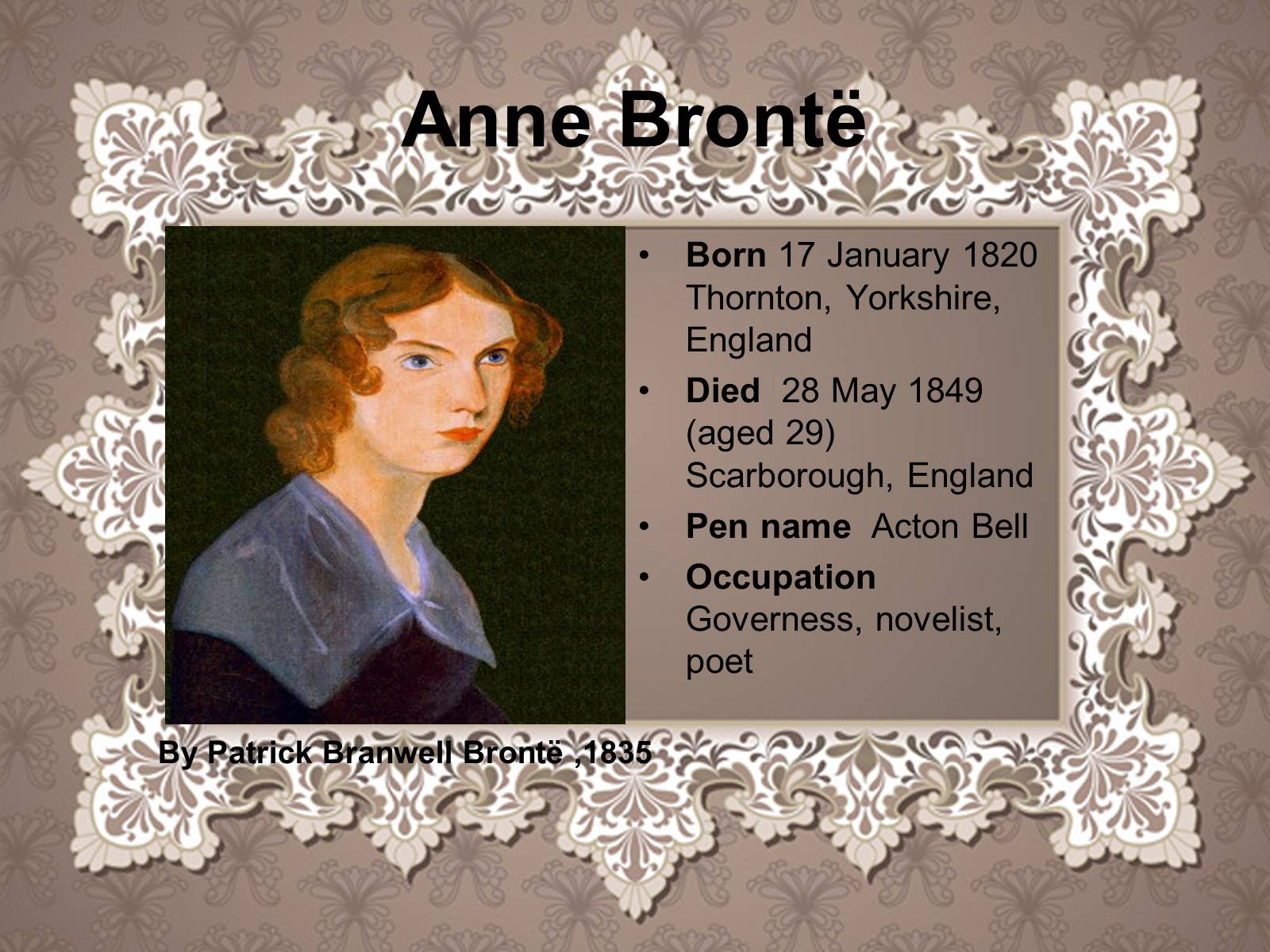 Anne Brontë
Born 17 January 1820Thornton, Yorkshire, England
Died 28 May 1849 (aged 29)Scarborough, England
Pen name Acton Bell
Occupation Governess, novelist, poet
By Patrick Branwell Brontë ,1835
---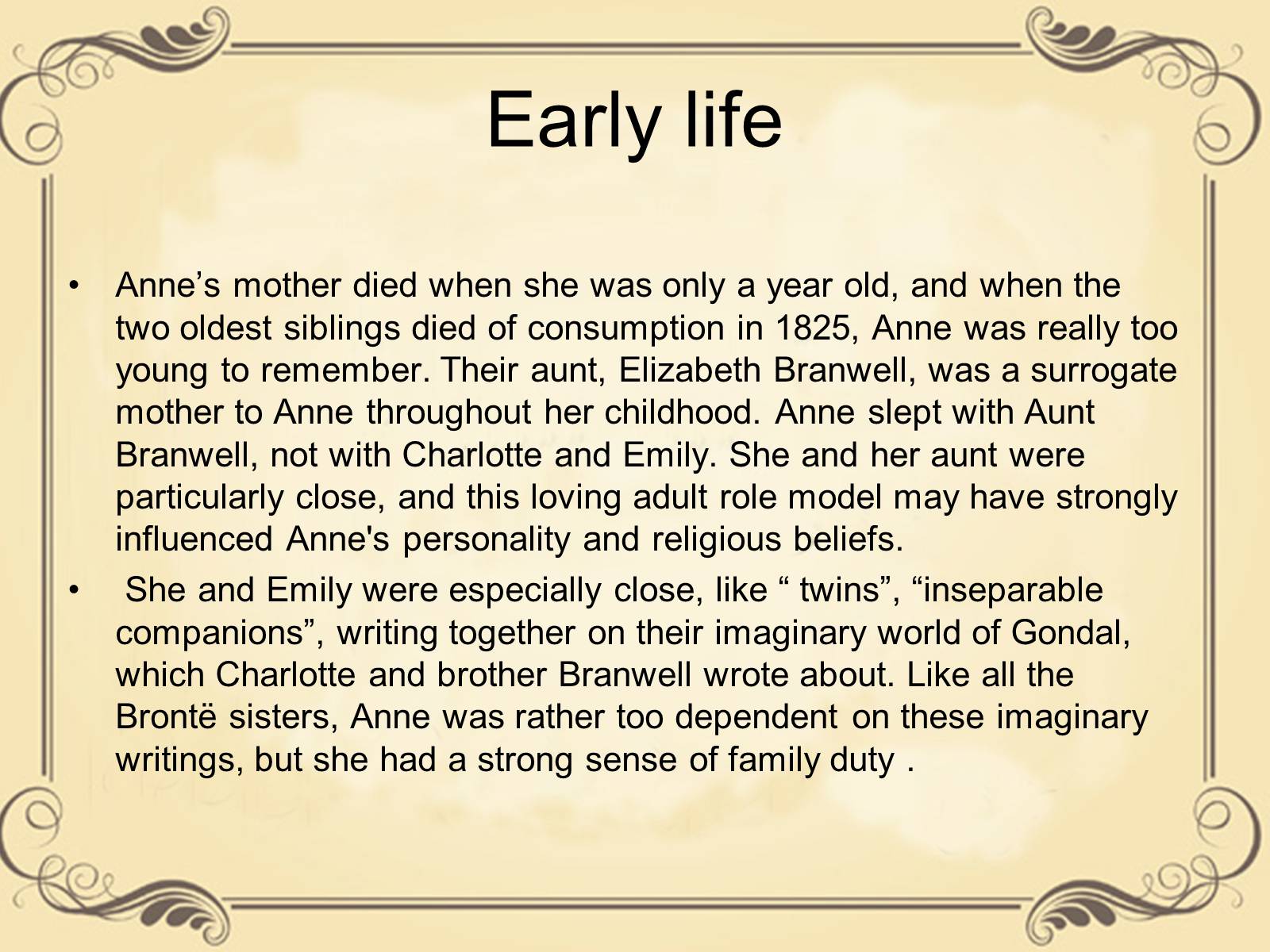 Early life
Anne's mother died when she was only a year old, and when the two oldest siblings died of consumption in 1825, Anne was really too young to remember. Their aunt, Elizabeth Branwell, was a surrogate mother to Anne throughout her childhood. Anne slept with Aunt Branwell, not with Charlotte and Emily. She and her aunt were particularly close, and this loving adult role model may have strongly influenced Anne's personality and religious beliefs.
She and Emily were especially close, like " twins", "inseparable companions", writing together on their imaginary world of Gondal, which Charlotte and brother Branwell wrote about. Like all the Brontë sisters, Anne was rather too dependent on these imaginary writings, but she had a strong sense of family duty .
---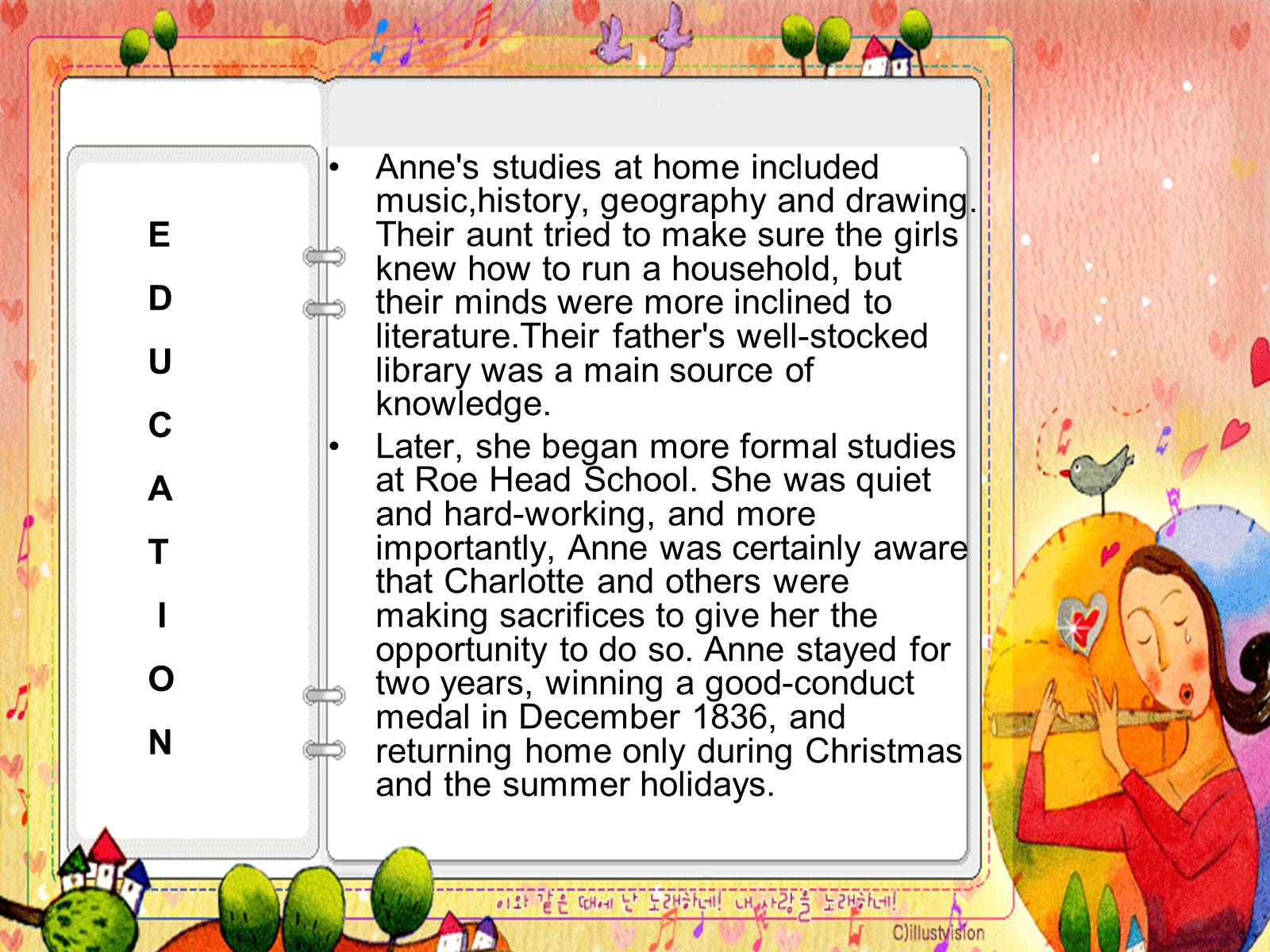 Anne's studies at home included music,history, geography and drawing. Their aunt tried to make sure the girls knew how to run a household, but their minds were more inclined to literature.Their father's well-stocked library was a main source of knowledge.
Later, she began more formal studies at Roe Head School. She was quiet and hard-working, and more importantly, Anne was certainly aware that Charlotte and others were making sacrifices to give her the opportunity to do so. Anne stayed for two years, winning a good-conduct medal in December 1836, and returning home only during Christmas and the summer holidays.
E
D
U
C
A
T
I
O
N
---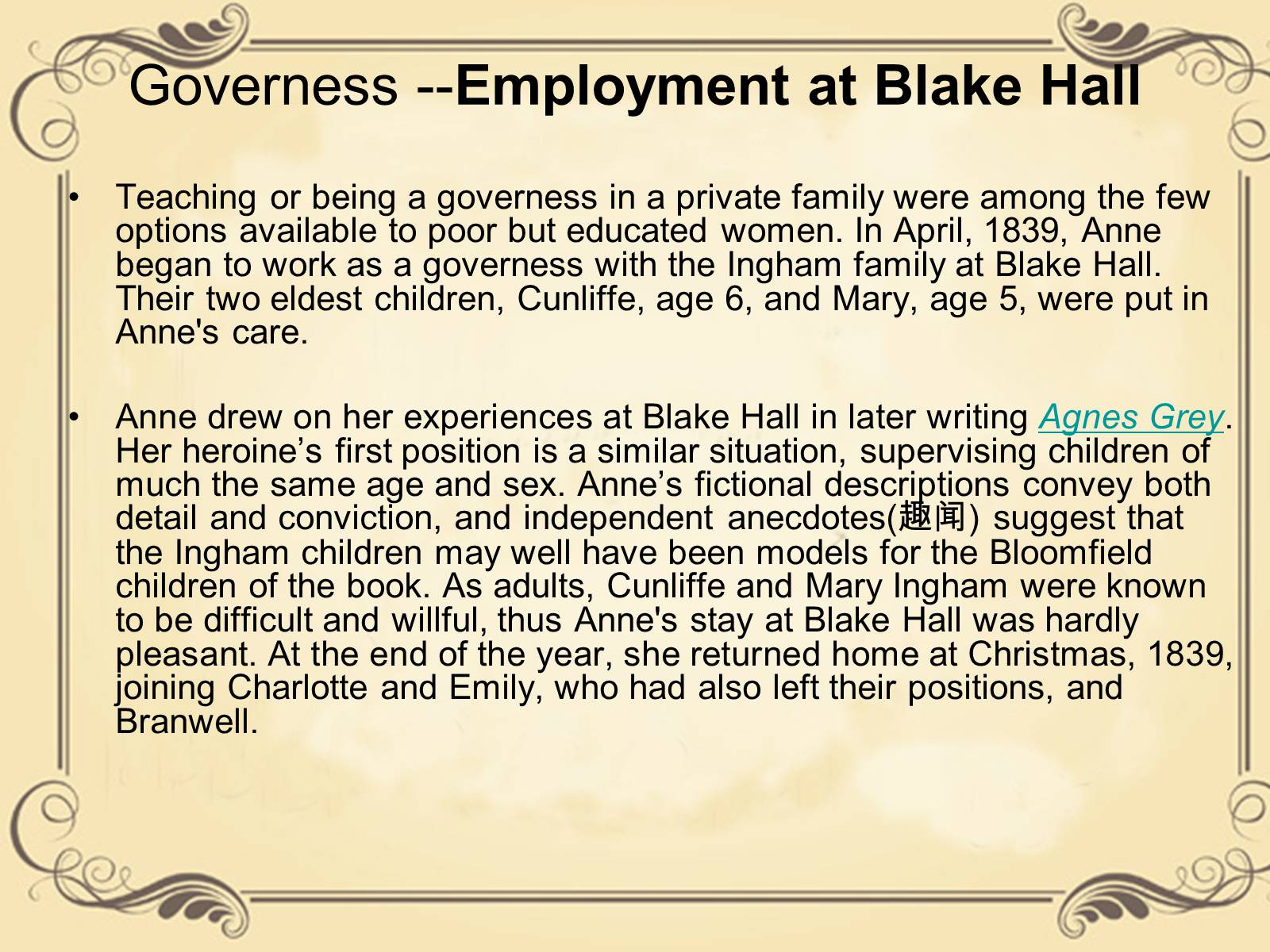 Governess --Employment at Blake Hall
Teaching or being a governess in a private family were among the few options available to poor but educated women. In April, 1839, Anne began to work as a governess with the Ingham family at Blake Hall. Their two eldest children, Cunliffe, age 6, and Mary, age 5, were put in Anne's care.
Anne drew on her experiences at Blake Hall in later writing Agnes Grey. Her heroine's first position is a similar situation, supervising children of much the same age and sex. Anne's fictional descriptions convey both detail and conviction, and independent anecdotes(趣闻) suggest that the Ingham children may well have been models for the Bloomfield children of the book. As adults, Cunliffe and Mary Ingham were known to be difficult and willful, thus Anne's stay at Blake Hall was hardly pleasant. At the end of the year, she returned home at Christmas, 1839, joining Charlotte and Emily, who had also left their positions, and Branwell.
---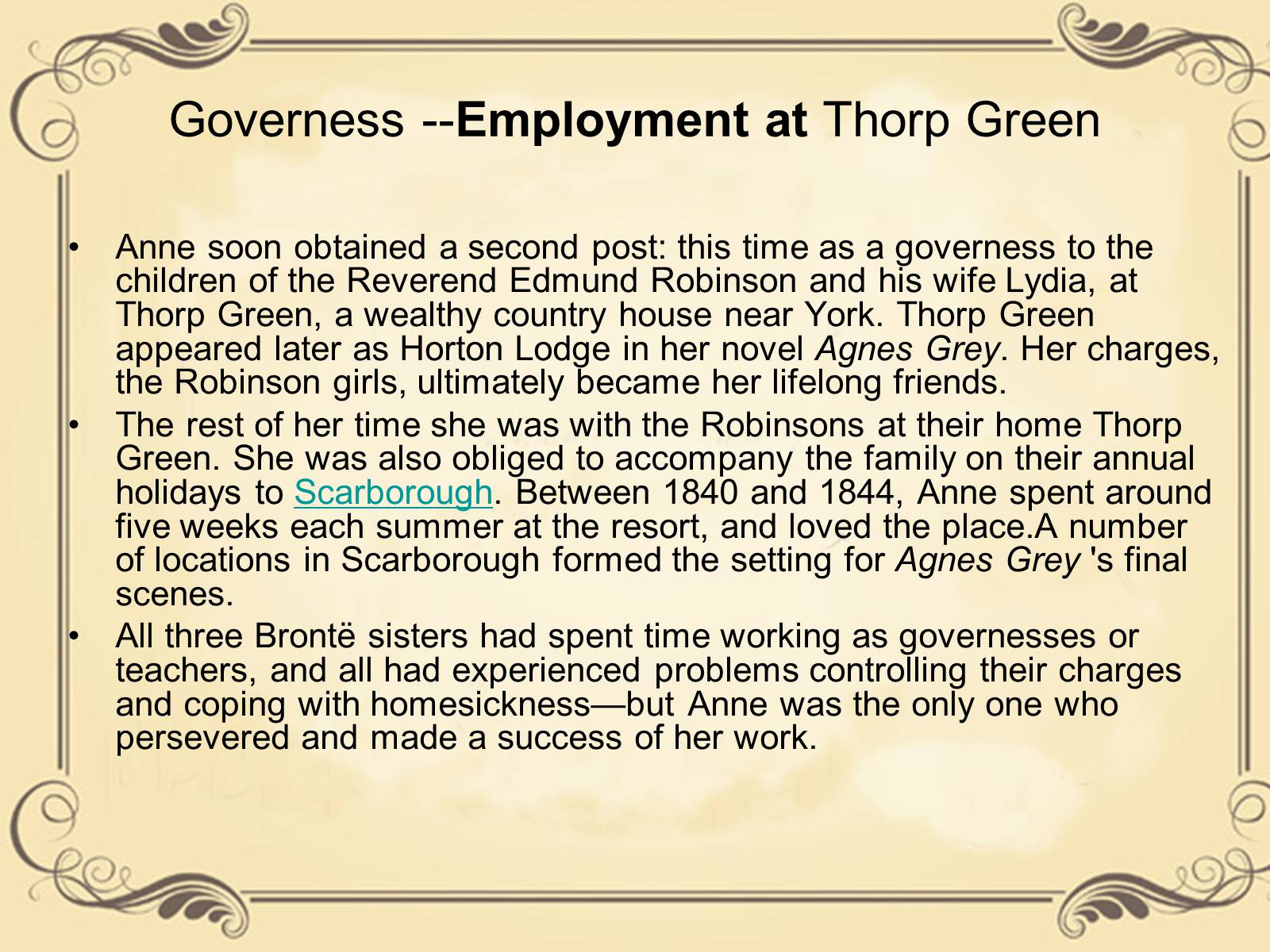 Governess --Employment at Thorp Green
Anne soon obtained a second post: this time as a governess to the children of the Reverend Edmund Robinson and his wife Lydia, at Thorp Green, a wealthy country house near York. Thorp Green appeared later as Horton Lodge in her novel Agnes Grey. Her charges, the Robinson girls, ultimately became her lifelong friends.
The rest of her time she was with the Robinsons at their home Thorp Green. She was also obliged to accompany the family on their annual holidays to Scarborough. Between 1840 and 1844, Anne spent around five weeks each summer at the resort, and loved the place.A number of locations in Scarborough formed the setting for Agnes Grey 's final scenes.
All three Brontë sisters had spent time working as governesses or teachers, and all had experienced problems controlling their charges and coping with homesickness—but Anne was the only one who persevered and made a success of her work.
---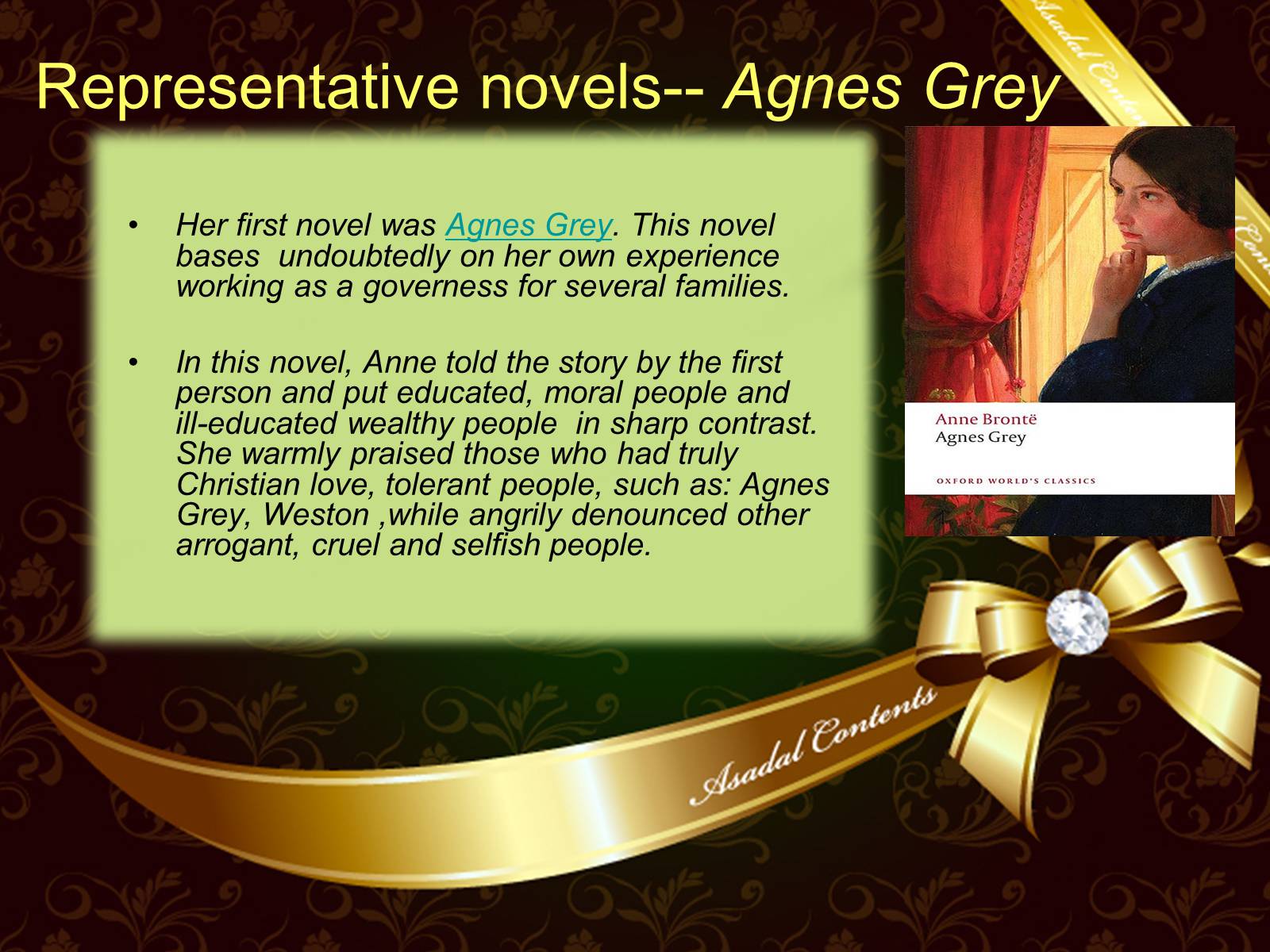 Representative novels-- Agnes Grey
Her first novel was Agnes Grey. This novel bases undoubtedly on her own experience working as a governess for several families.
In this novel, Anne told the story by the first person and put educated, moral people and ill-educated wealthy people in sharp contrast. She warmly praised those who had truly Christian love, tolerant people, such as: Agnes Grey, Weston ,while angrily denounced other arrogant, cruel and selfish people.
---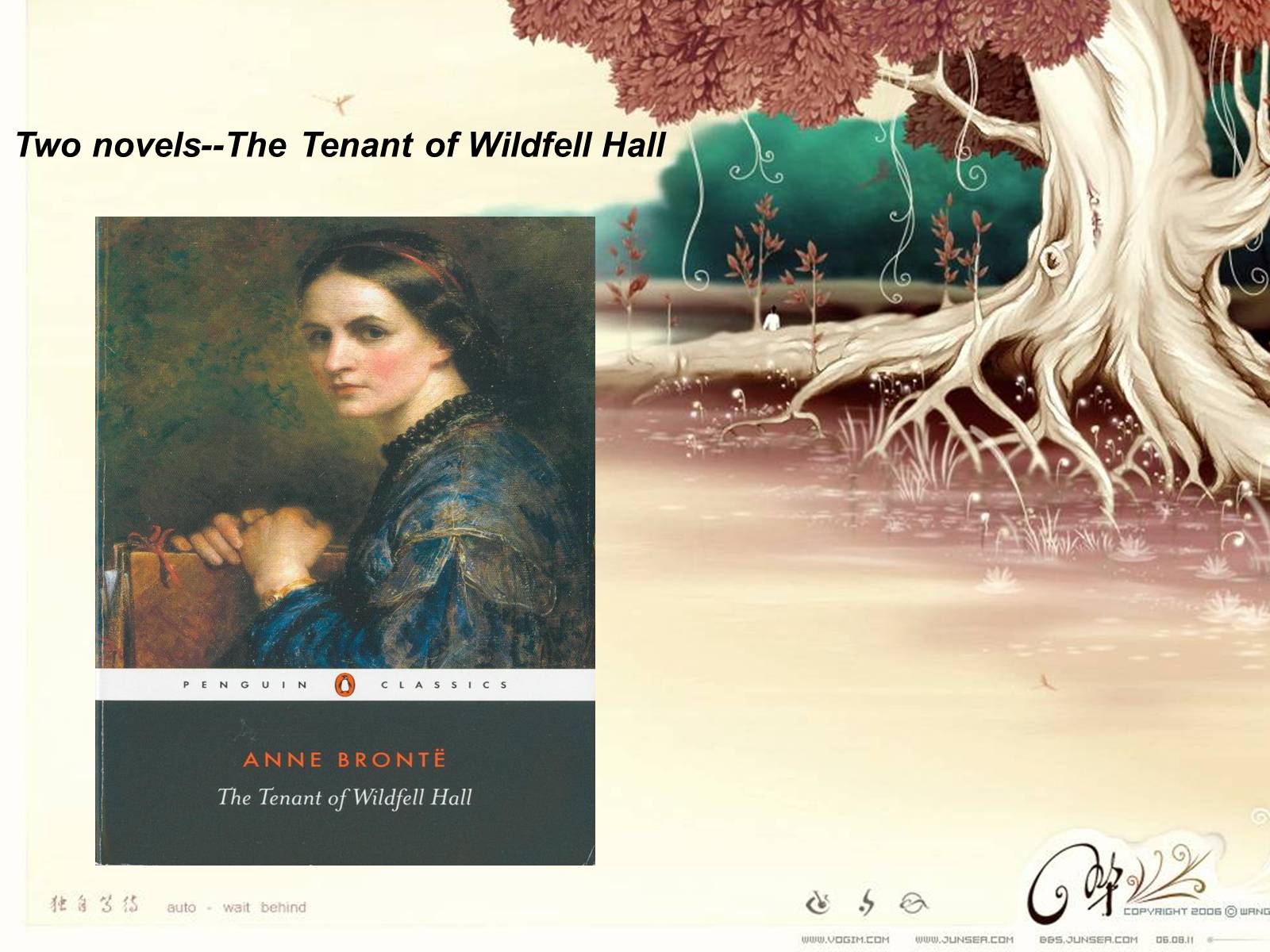 Two novels--The Tenant of Wildfell Hall
---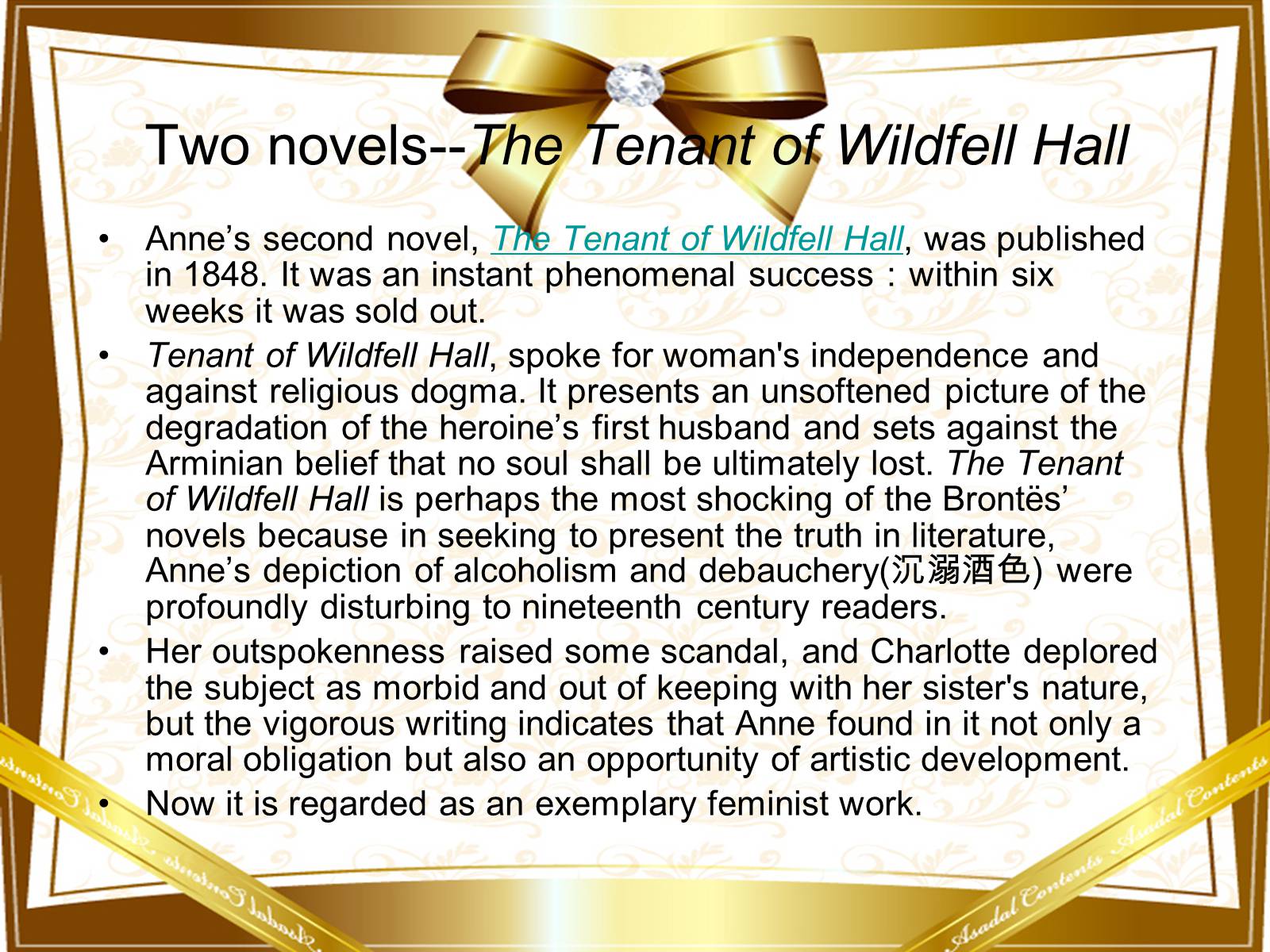 Two novels--The Tenant of Wildfell Hall
Anne's second novel, The Tenant of Wildfell Hall, was published in 1848. It was an instant phenomenal success:within six weeks it was sold out.
Tenant of Wildfell Hall, spoke for woman's independence and against religious dogma. It presents an unsoftened picture of the degradation of the heroine's first husband and sets against the Arminian belief that no soul shall be ultimately lost. The Tenant of Wildfell Hall is perhaps the most shocking of the Brontës' novels because in seeking to present the truth in literature, Anne's depiction of alcoholism and debauchery(沉溺酒色) were profoundly disturbing to nineteenth century readers.
Her outspokenness raised some scandal, and Charlotte deplored the subject as morbid and out of keeping with her sister's nature, but the vigorous writing indicates that Anne found in it not only a moral obligation but also an opportunity of artistic development.
Now it is regarded as an exemplary feminist work.
---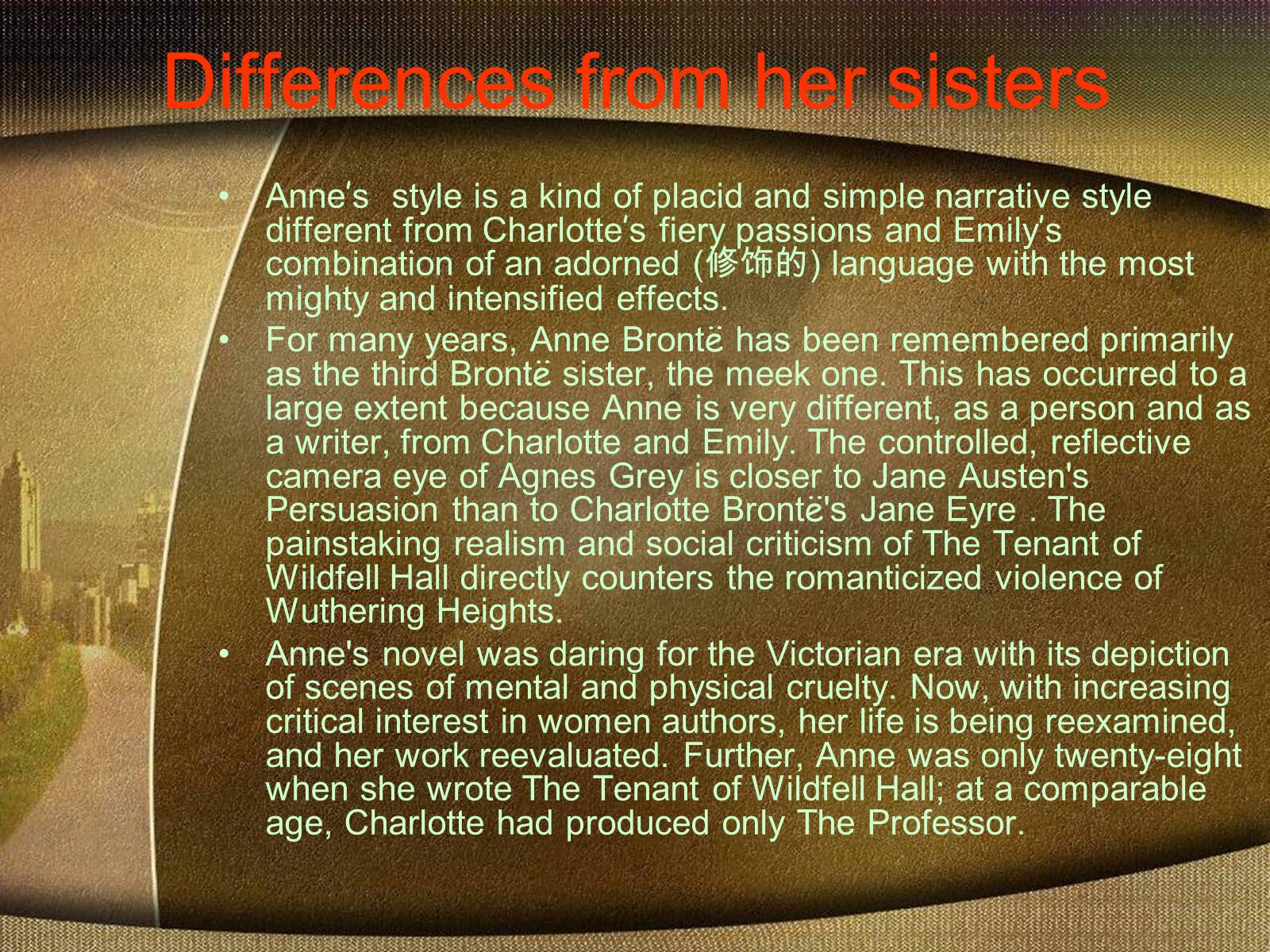 Differences from her sisters
Anne's style is a kind of placid and simple narrative style different from Charlotte's fiery passions and Emily's combination of an adorned (修饰的) language with the most mighty and intensified effects.
For many years, Anne Brontë has been remembered primarily as the third Brontë sister, the meek one. This has occurred to a large extent because Anne is very different, as a person and as a writer, from Charlotte and Emily. The controlled, reflective camera eye of Agnes Grey is closer to Jane Austen's Persuasion than to Charlotte Brontë's Jane Eyre . The painstaking realism and social criticism of The Tenant of Wildfell Hall directly counters the romanticized violence of Wuthering Heights.
Anne's novel was daring for the Victorian era with its depiction of scenes of mental and physical cruelty. Now, with increasing critical interest in women authors, her life is being reexamined, and her work reevaluated. Further, Anne was only twenty-eight when she wrote The Tenant of Wildfell Hall; at a comparable age, Charlotte had produced only The Professor.
---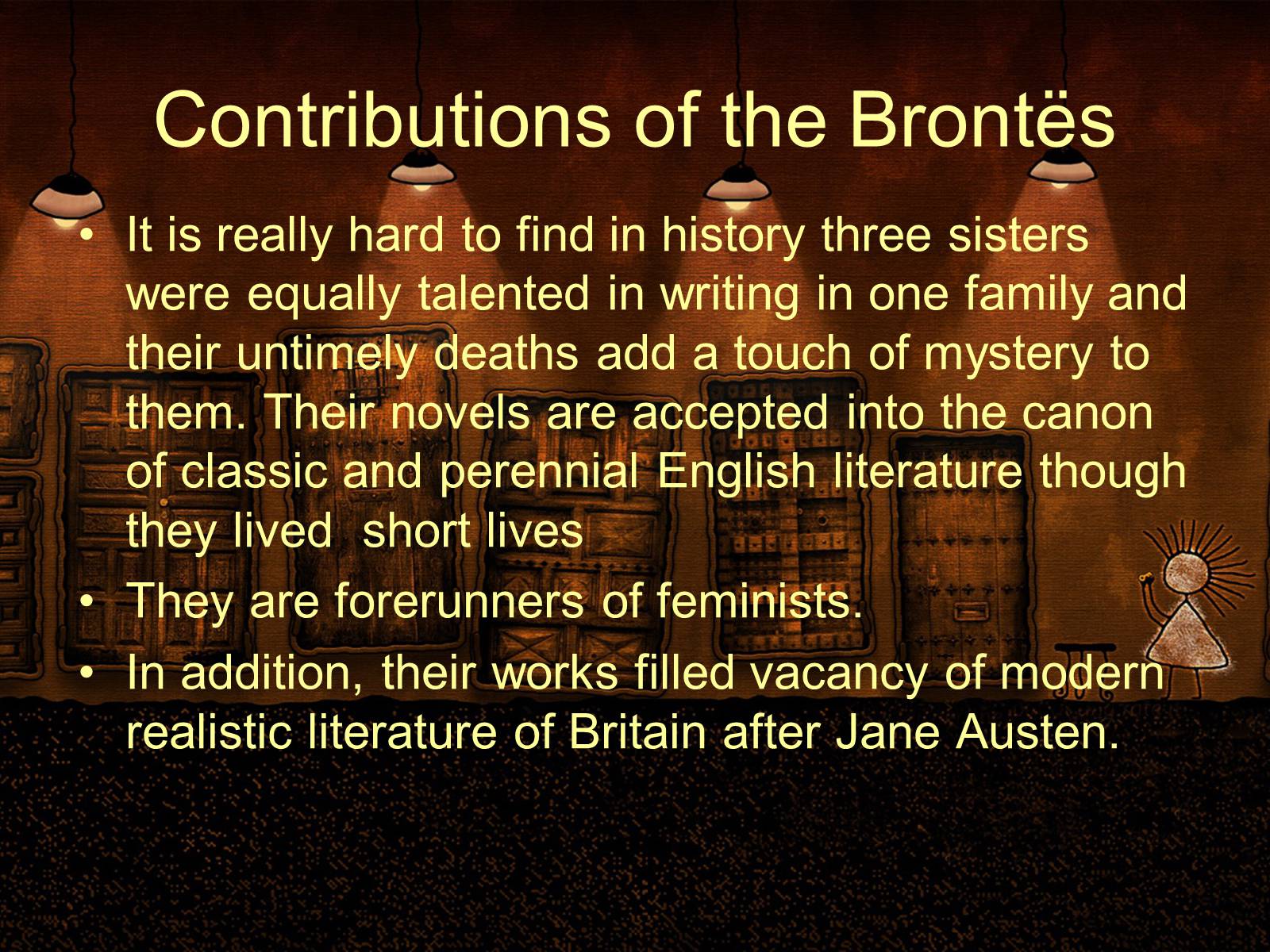 Contributions of the Brontës
It is really hard to find in history three sisters were equally talented in writing in one family and their untimely deaths add a touch of mystery to them. Their novels are accepted into the canon of classic and perennial English literature though they lived short lives
They are forerunners of feminists.
In addition, their works filled vacancy of modern realistic literature of Britain after Jane Austen.
---
---