Презентація на тему «Interesting figures in American literature»
---
---
Завантажити презентацію
---
---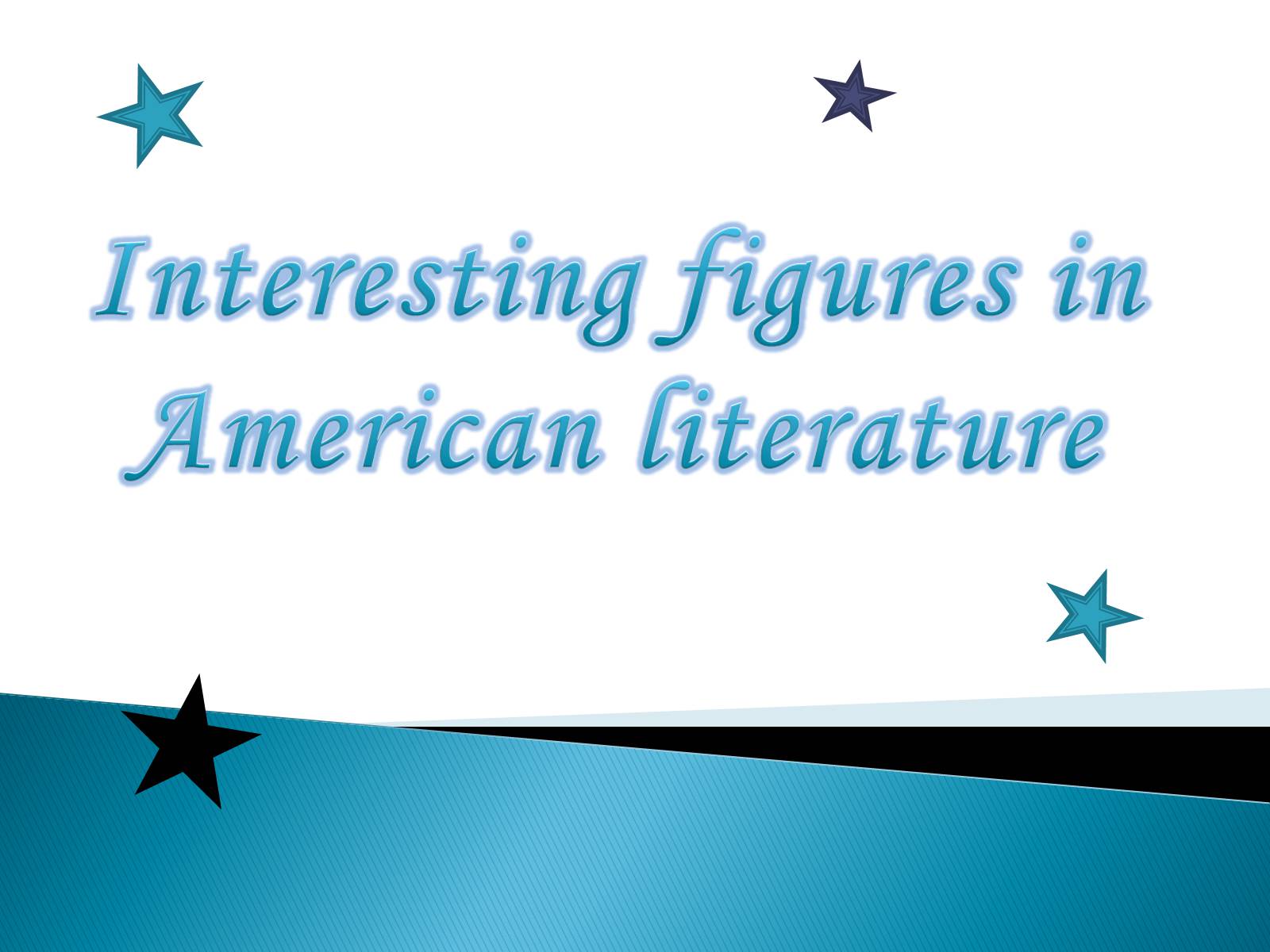 Interesting figures in American literature
---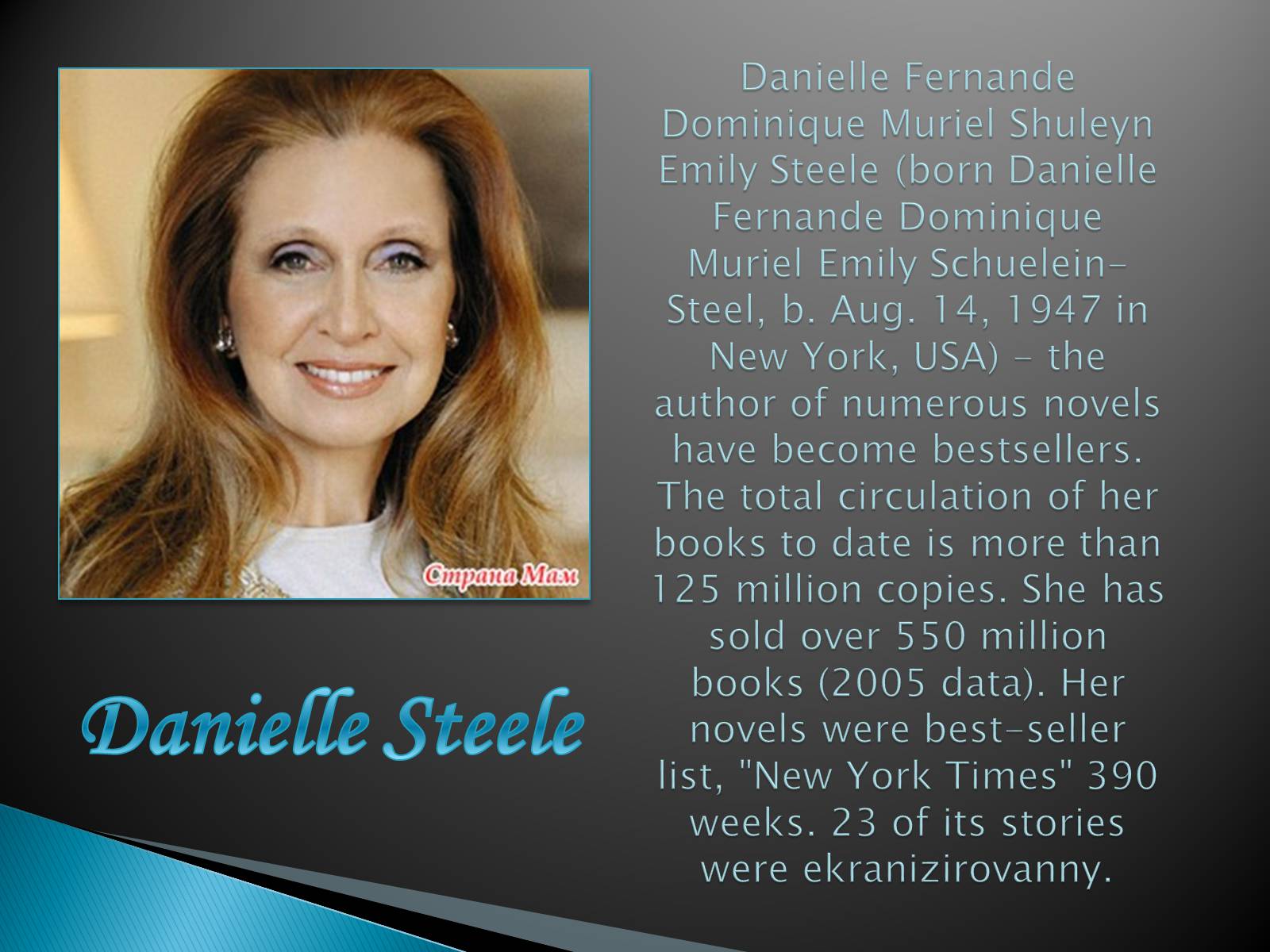 Danielle Fernande Dominique Muriel Shuleyn Emily Steele (born Danielle Fernande Dominique Muriel Emily Schuelein-Steel, b. Aug. 14, 1947 in New York, USA) - the author of numerous novels have become bestsellers. The total circulation of her books to date is more than 125 million copies. She has sold over 550 million books (2005 data). Her novels were best-seller list, "New York Times" 390 weeks. 23 of its stories were ekranizirovanny.
Danielle Steele
---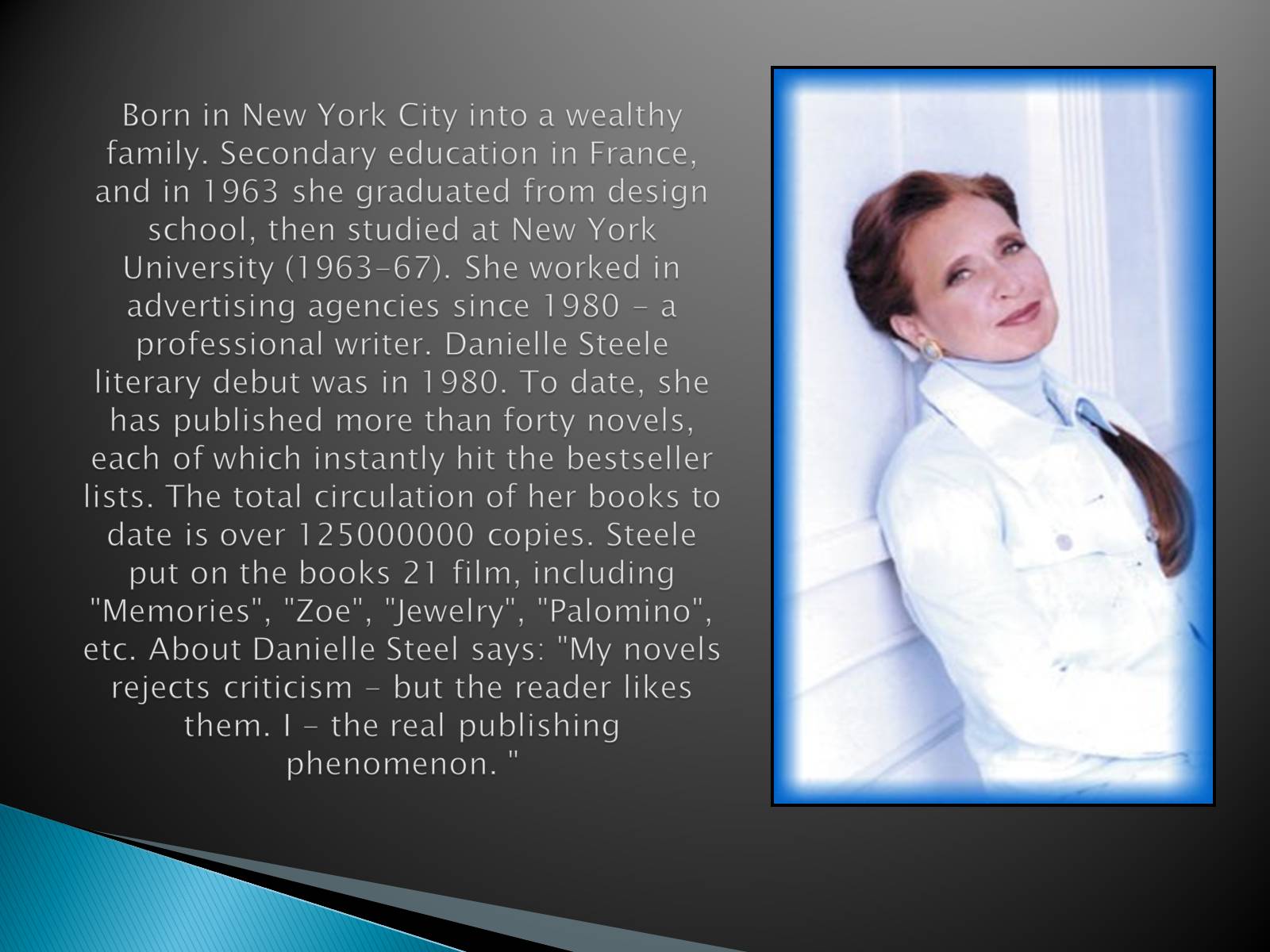 Born in New York City into a wealthy family. Secondary education in France, and in 1963 she graduated from design school, then studied at New York University (1963-67). She worked in advertising agencies since 1980 - a professional writer. Danielle Steele literary debut was in 1980. To date, she has published more than forty novels, each of which instantly hit the bestseller lists. The total circulation of her books to date is over 125000000 copies. Steele put on the books 21 film, including "Memories", "Zoe", "Jewelry", "Palomino", etc. About Danielle Steel says: "My novels rejects criticism - but the reader likes them. I - the real publishing phenomenon. "
---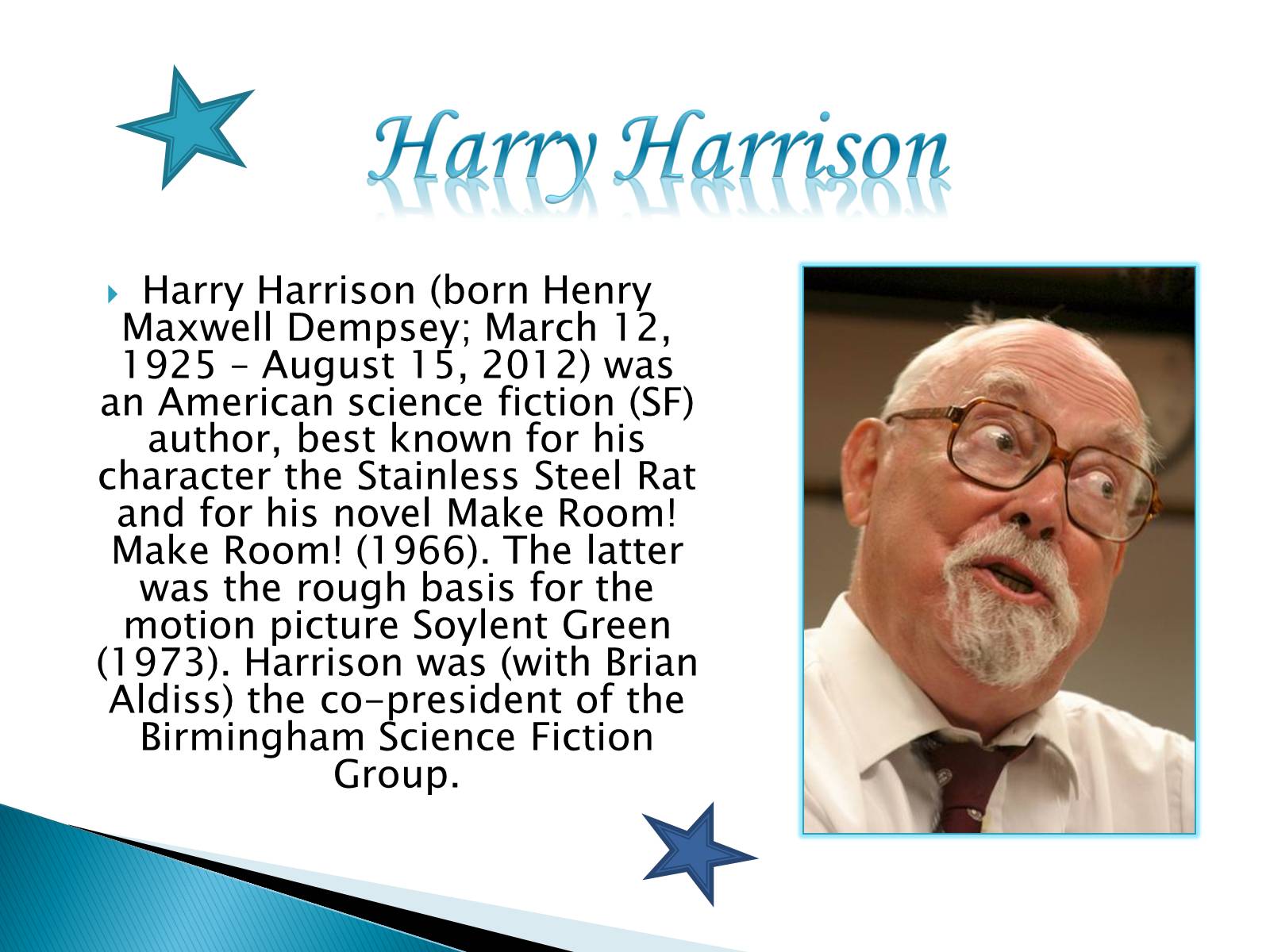 Harry Harrison (born Henry Maxwell Dempsey; March 12, 1925 – August 15, 2012) was an American science fiction (SF) author, best known for his character the Stainless Steel Rat and for his novel Make Room! Make Room! (1966). The latter was the rough basis for the motion picture Soylent Green (1973). Harrison was (with Brian Aldiss) the co-president of the Birmingham Science Fiction Group.
Harry Harrison
---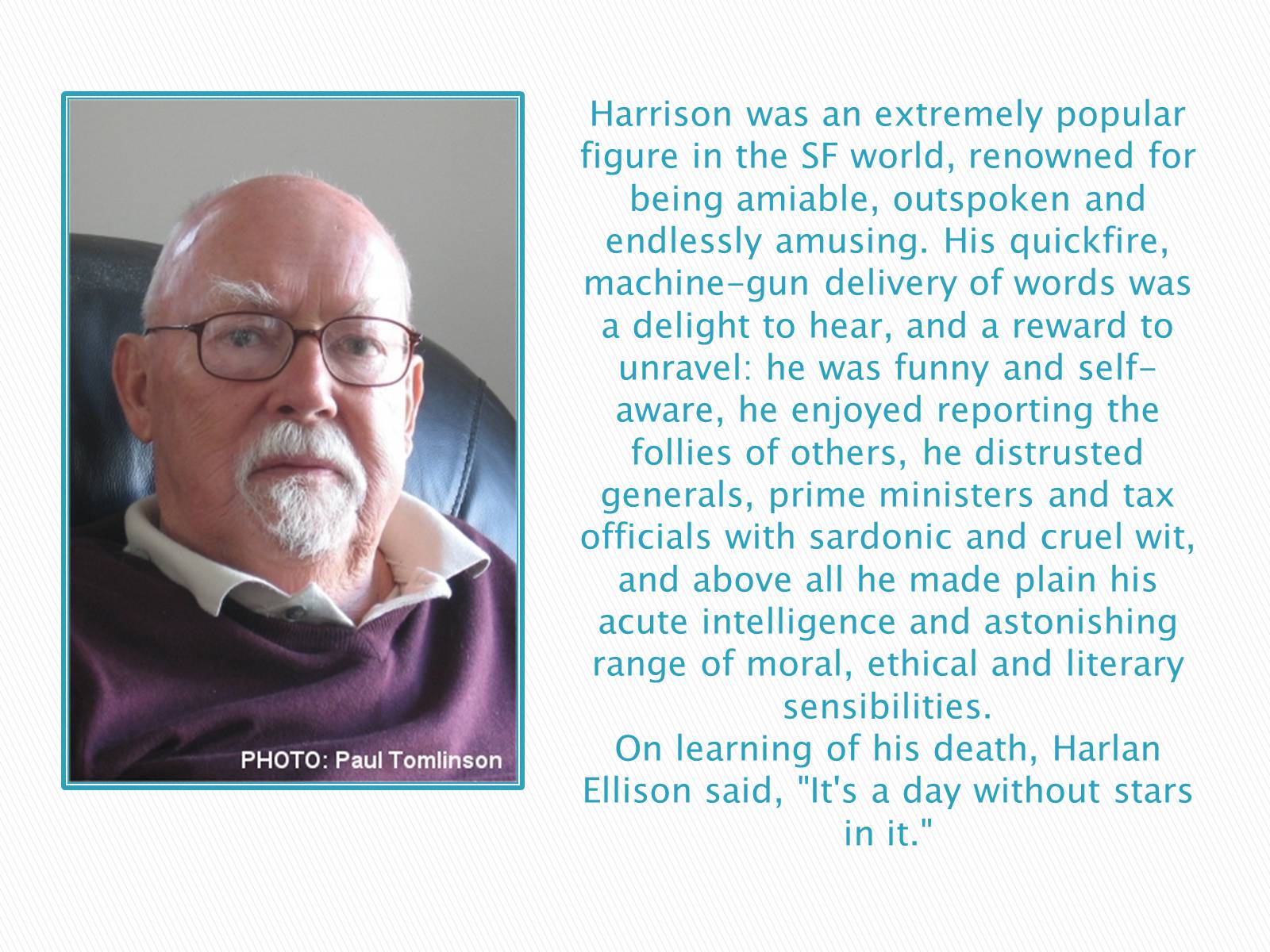 Harrison was an extremely popular figure in the SF world, renowned for being amiable, outspoken and endlessly amusing. His quickfire, machine-gun delivery of words was a delight to hear, and a reward to unravel: he was funny and self-aware, he enjoyed reporting the follies of others, he distrusted generals, prime ministers and tax officials with sardonic and cruel wit, and above all he made plain his acute intelligence and astonishing range of moral, ethical and literary sensibilities.On learning of his death, Harlan Ellison said, "It's a day without stars in it."
---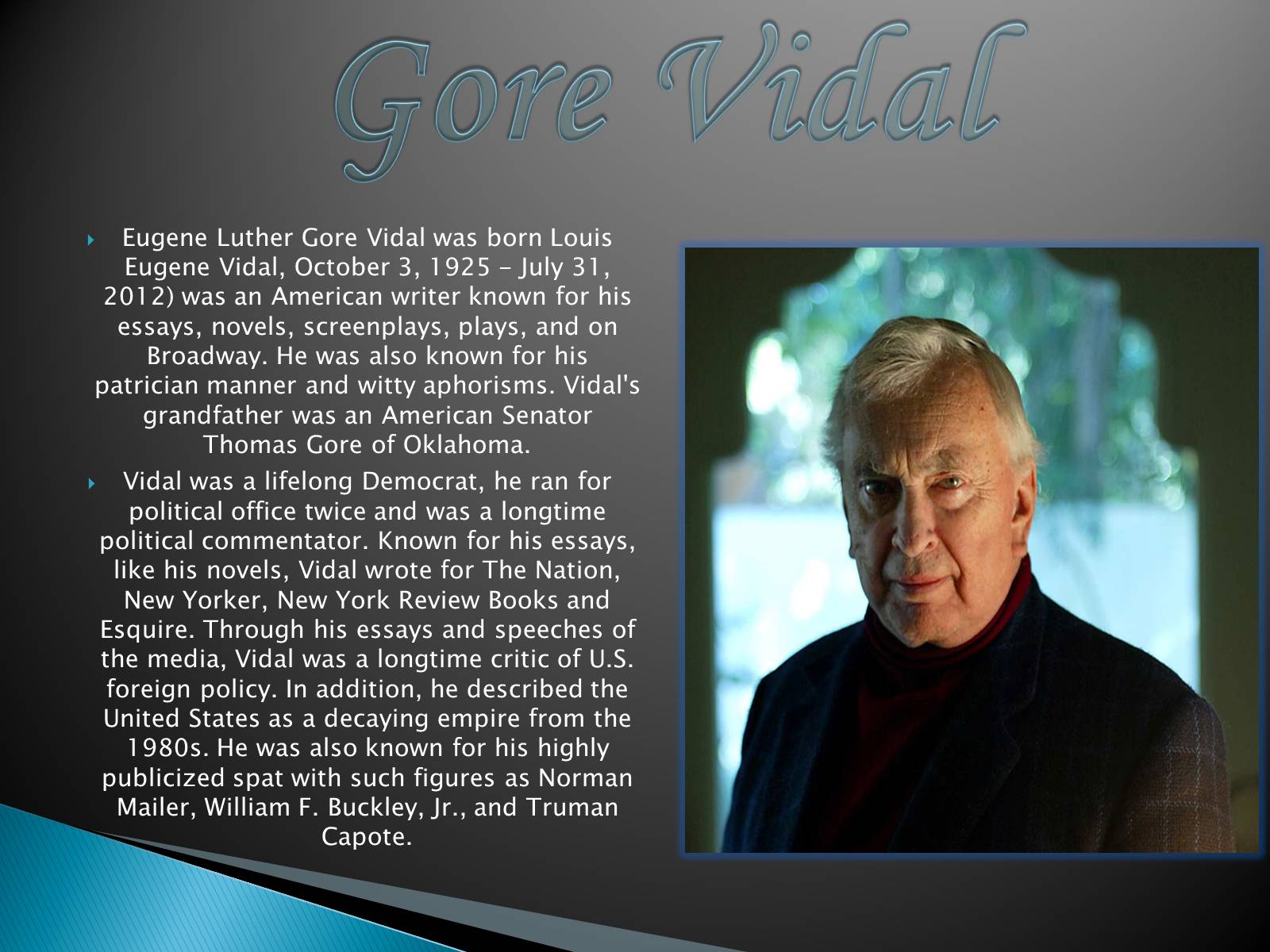 Gore Vidal
Eugene Luther Gore Vidal was born Louis Eugene Vidal, October 3, 1925 - July 31, 2012) was an American writer known for his essays, novels, screenplays, plays, and on Broadway. He was also known for his patrician manner and witty aphorisms. Vidal's grandfather was an American Senator Thomas Gore of Oklahoma.
Vidal was a lifelong Democrat, he ran for political office twice and was a longtime political commentator. Known for his essays, like his novels, Vidal wrote for The Nation, New Yorker, New York Review Books and Esquire. Through his essays and speeches of the media, Vidal was a longtime critic of U.S. foreign policy. In addition, he described the United States as a decaying empire from the 1980s. He was also known for his highly publicized spat with such figures as Norman Mailer, William F. Buckley, Jr., and Truman Capote.
---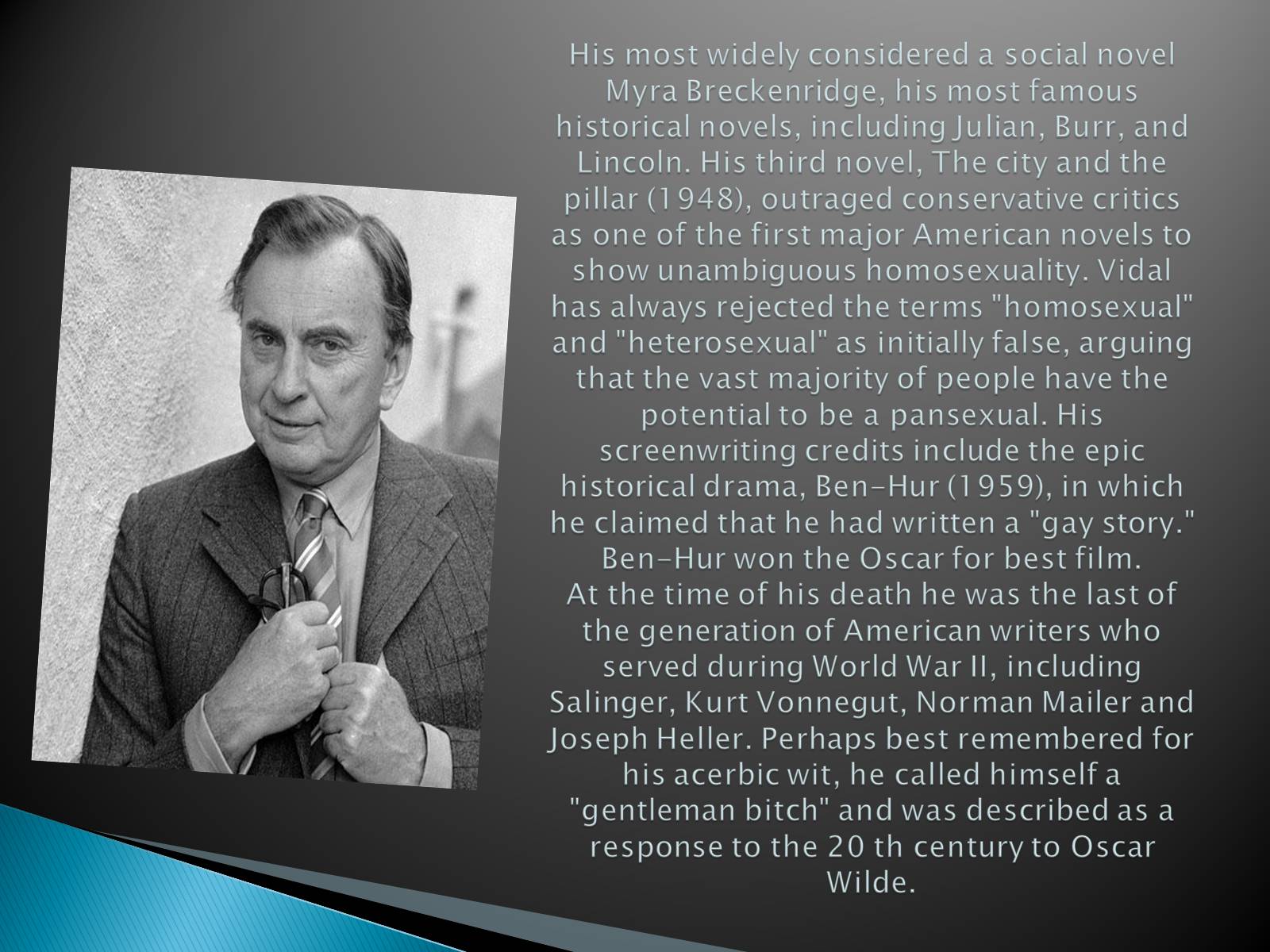 His most widely considered a social novel Myra Breckenridge, his most famous historical novels, including Julian, Burr, and Lincoln. His third novel, The city and the pillar (1948), outraged conservative critics as one of the first major American novels to show unambiguous homosexuality. Vidal has always rejected the terms "homosexual" and "heterosexual" as initially false, arguing that the vast majority of people have the potential to be a pansexual. His screenwriting credits include the epic historical drama, Ben-Hur (1959), in which he claimed that he had written a "gay story." Ben-Hur won the Oscar for best film.At the time of his death he was the last of the generation of American writers who served during World War II, including Salinger, Kurt Vonnegut, Norman Mailer and Joseph Heller. Perhaps best remembered for his acerbic wit, he called himself a "gentleman bitch" and was described as a response to the 20 th century to Oscar Wilde.
---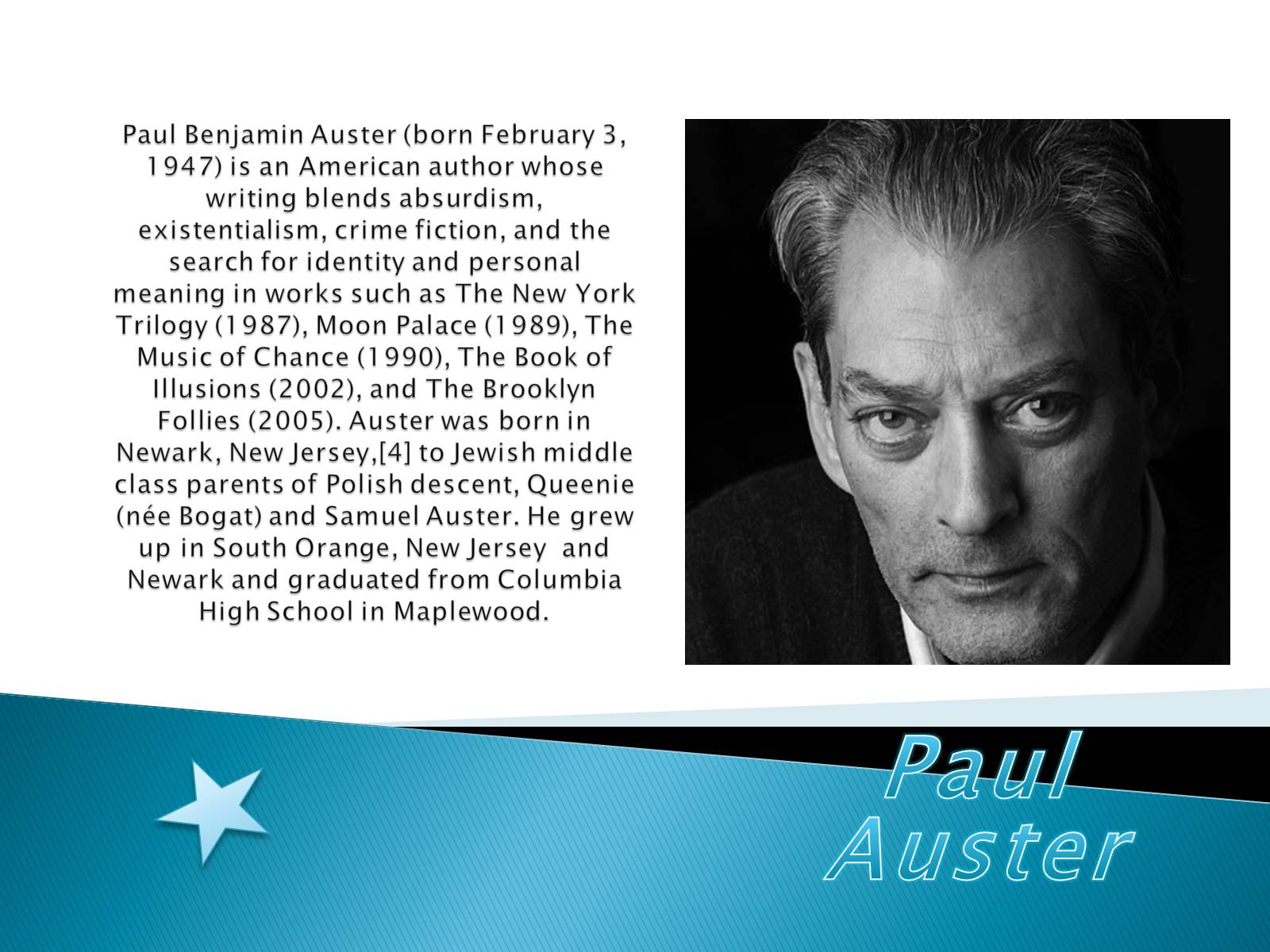 Paul Benjamin Auster (born February 3, 1947) is an American author whose writing blends absurdism, existentialism, crime fiction, and the search for identity and personal meaning in works such as The New York Trilogy (1987), Moon Palace (1989), The Music of Chance (1990), The Book of Illusions (2002), and The Brooklyn Follies (2005). Auster was born in Newark, New Jersey,[4] to Jewish middle class parents of Polish descent, Queenie (née Bogat) and Samuel Auster. He grew up in South Orange, New Jersey and Newark and graduated from Columbia High School in Maplewood.
Paul Auster
---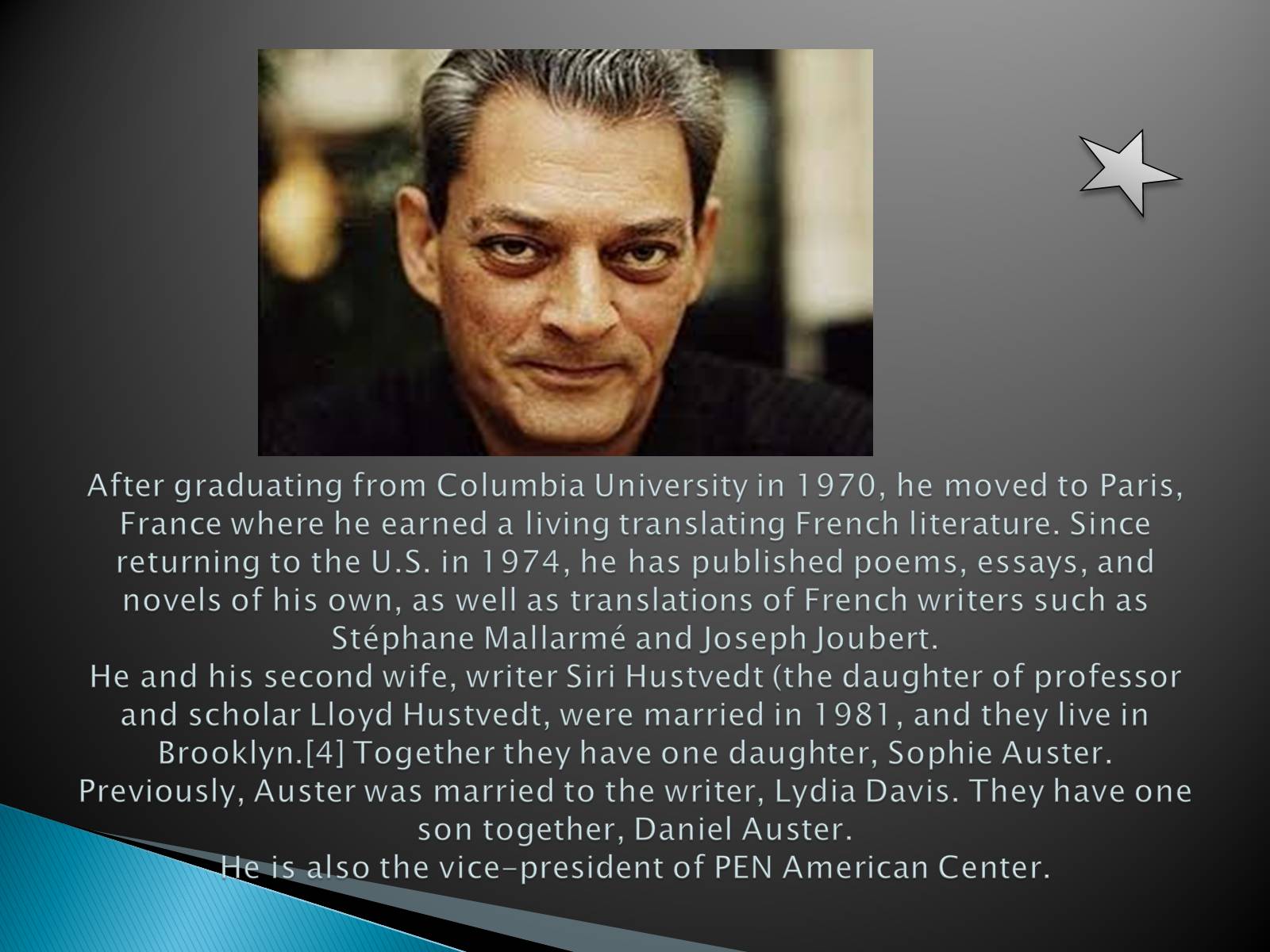 After graduating from Columbia University in 1970, he moved to Paris, France where he earned a living translating French literature. Since returning to the U.S. in 1974, he has published poems, essays, and novels of his own, as well as translations of French writers such as Stéphane Mallarmé and Joseph Joubert.He and his second wife, writer Siri Hustvedt (the daughter of professor and scholar Lloyd Hustvedt, were married in 1981, and they live in Brooklyn.[4] Together they have one daughter, Sophie Auster. Previously, Auster was married to the writer, Lydia Davis. They have one son together, Daniel Auster.He is also the vice-president of PEN American Center.
---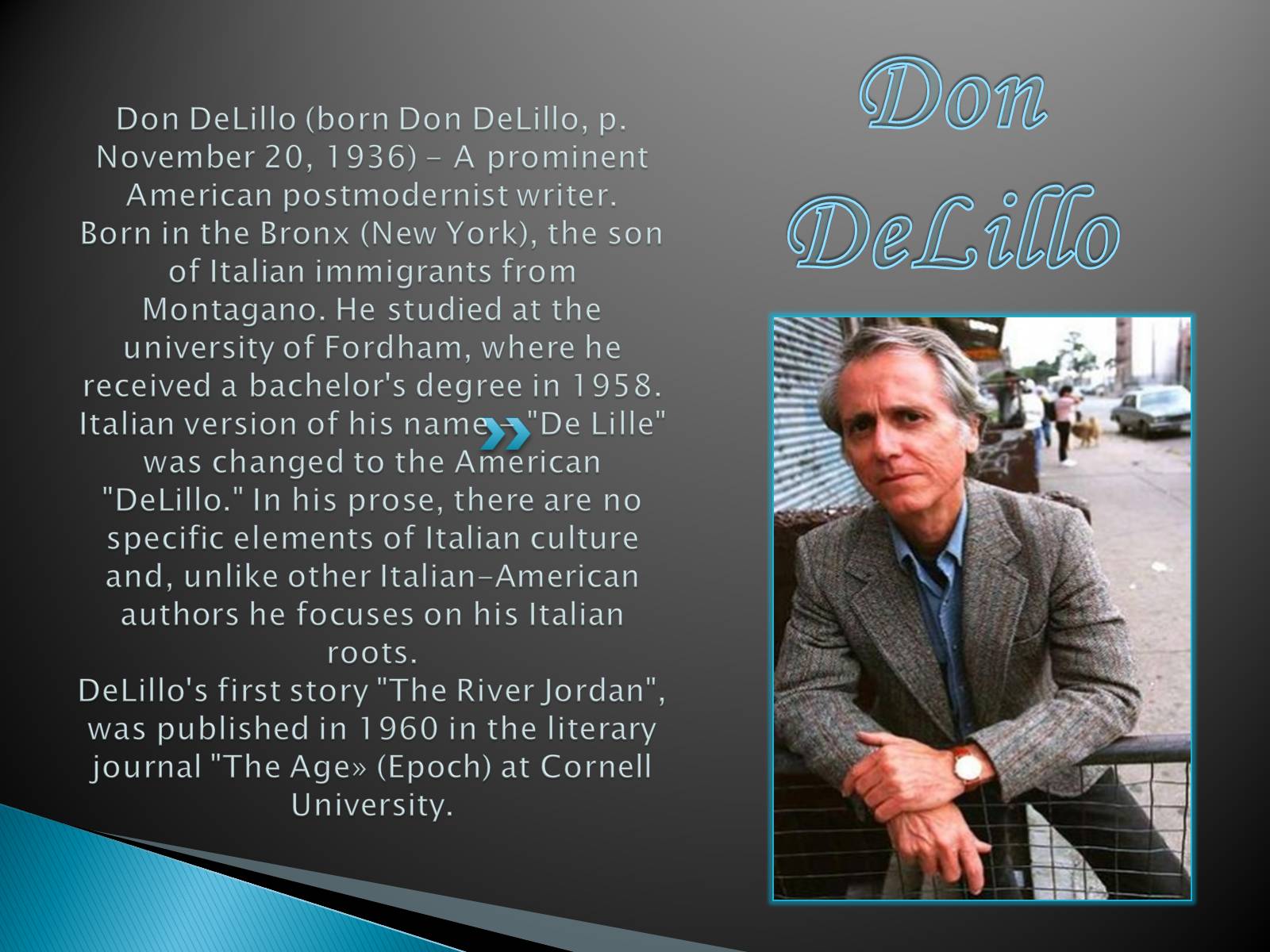 Don DeLillo (born Don DeLillo, p. November 20, 1936) - A prominent American postmodernist writer.Born in the Bronx (New York), the son of Italian immigrants from Montagano. He studied at the university of Fordham, where he received a bachelor's degree in 1958. Italian version of his name - "De Lille" was changed to the American "DeLillo." In his prose, there are no specific elements of Italian culture and, unlike other Italian-American authors he focuses on his Italian roots. DeLillo's first story "The River Jordan", was published in 1960 in the literary journal "The Age» (Epoch) at Cornell University.
Don DeLillo
---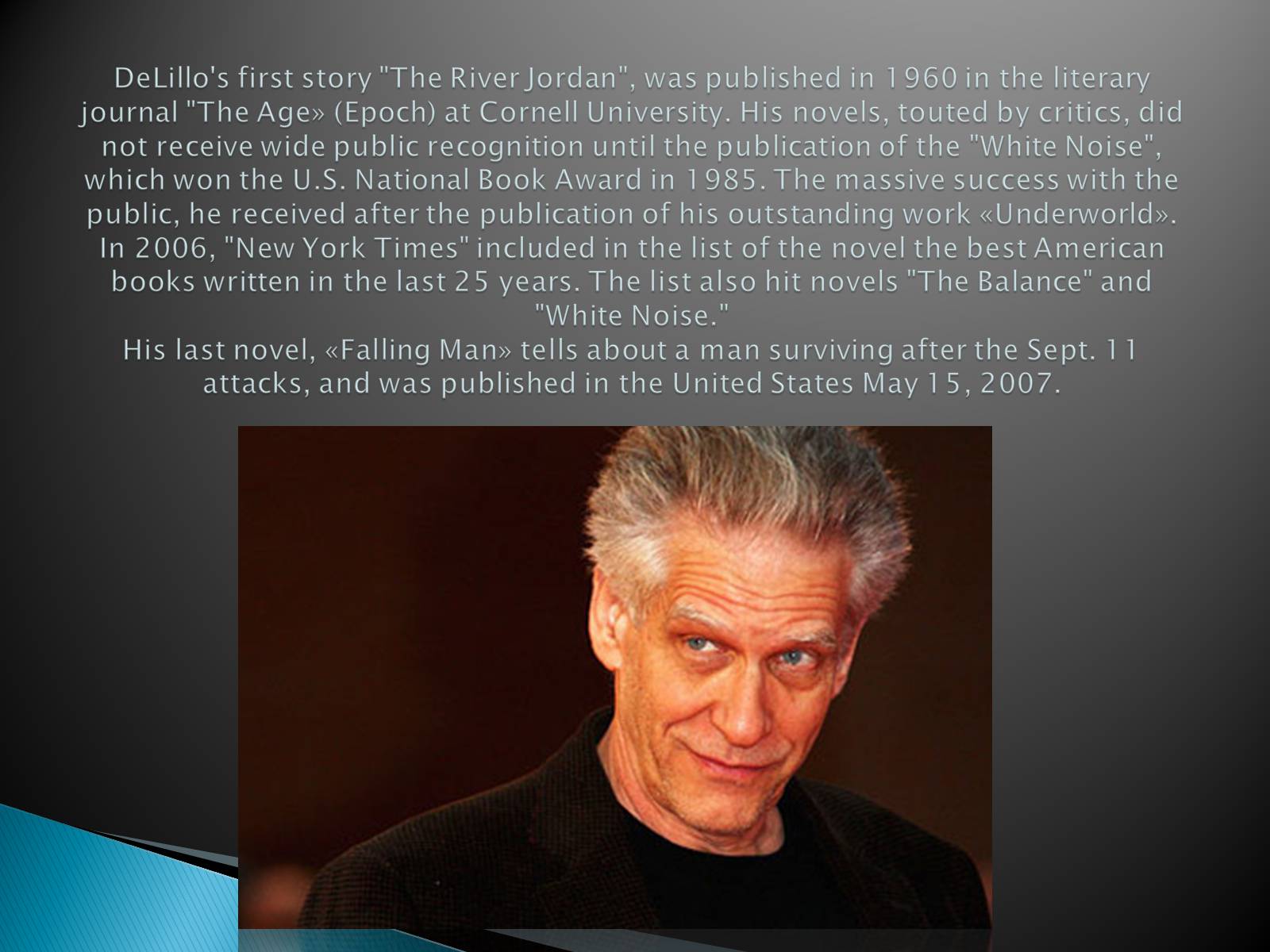 DeLillo's first story "The River Jordan", was published in 1960 in the literary journal "The Age» (Epoch) at Cornell University. His novels, touted by critics, did not receive wide public recognition until the publication of the "White Noise", which won the U.S. National Book Award in 1985. The massive success with the public, he received after the publication of his outstanding work «Underworld». In 2006, "New York Times" included in the list of the novel the best American books written in the last 25 years. The list also hit novels "The Balance" and "White Noise."His last novel, «Falling Man» tells about a man surviving after the Sept. 11 attacks, and was published in the United States May 15, 2007.
---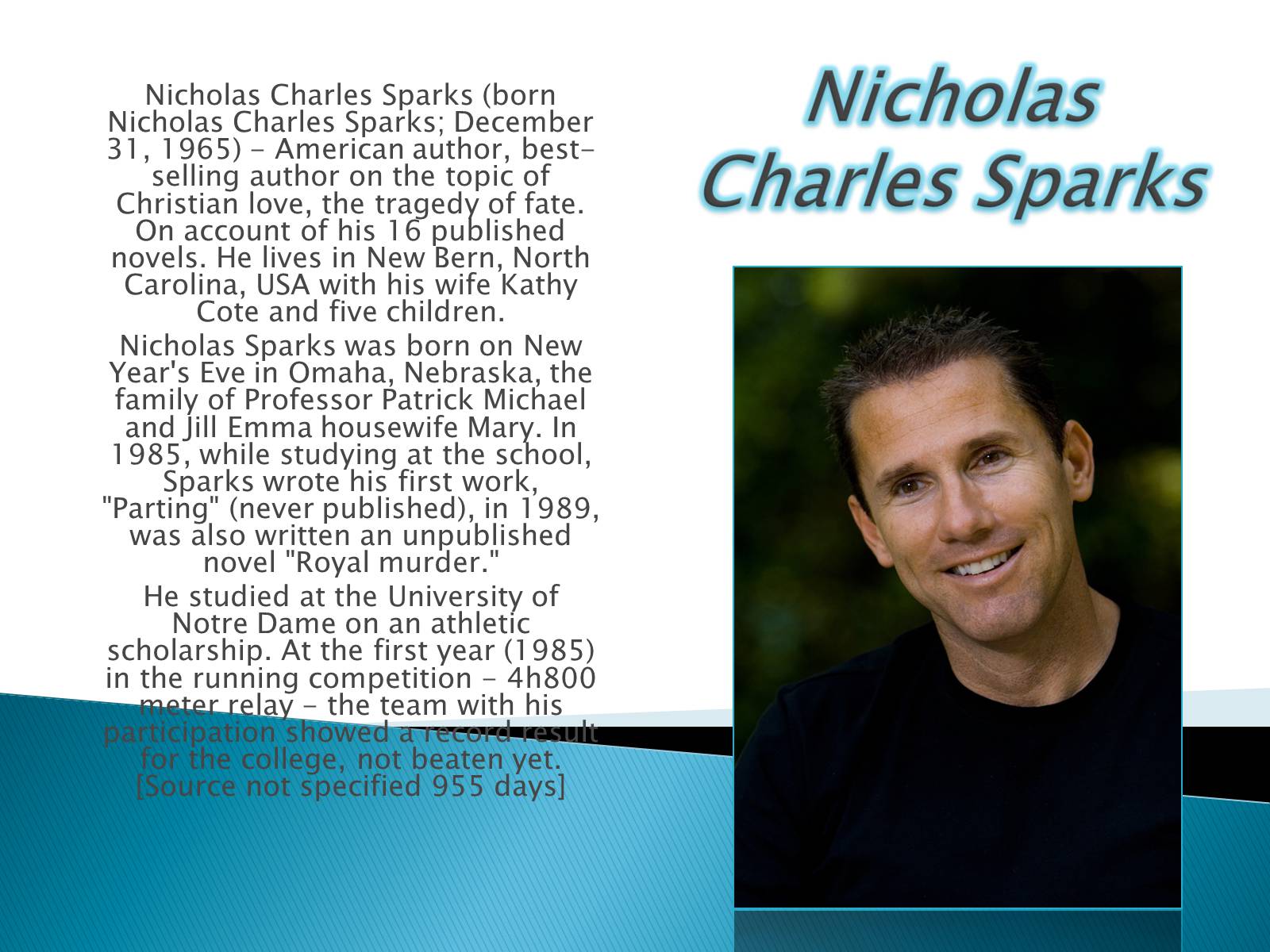 Nicholas Charles Sparks
Nicholas Charles Sparks (born Nicholas Charles Sparks; December 31, 1965) - American author, best-selling author on the topic of Christian love, the tragedy of fate. On account of his 16 published novels. He lives in New Bern, North Carolina, USA with his wife Kathy Cote and five children.
Nicholas Sparks was born on New Year's Eve in Omaha, Nebraska, the family of Professor Patrick Michael and Jill Emma housewife Mary. In 1985, while studying at the school, Sparks wrote his first work, "Parting" (never published), in 1989, was also written an unpublished novel "Royal murder."
He studied at the University of Notre Dame on an athletic scholarship. At the first year (1985) in the running competition - 4h800 meter relay - the team with his participation showed a record result for the college, not beaten yet. [Source not specified 955 days]
---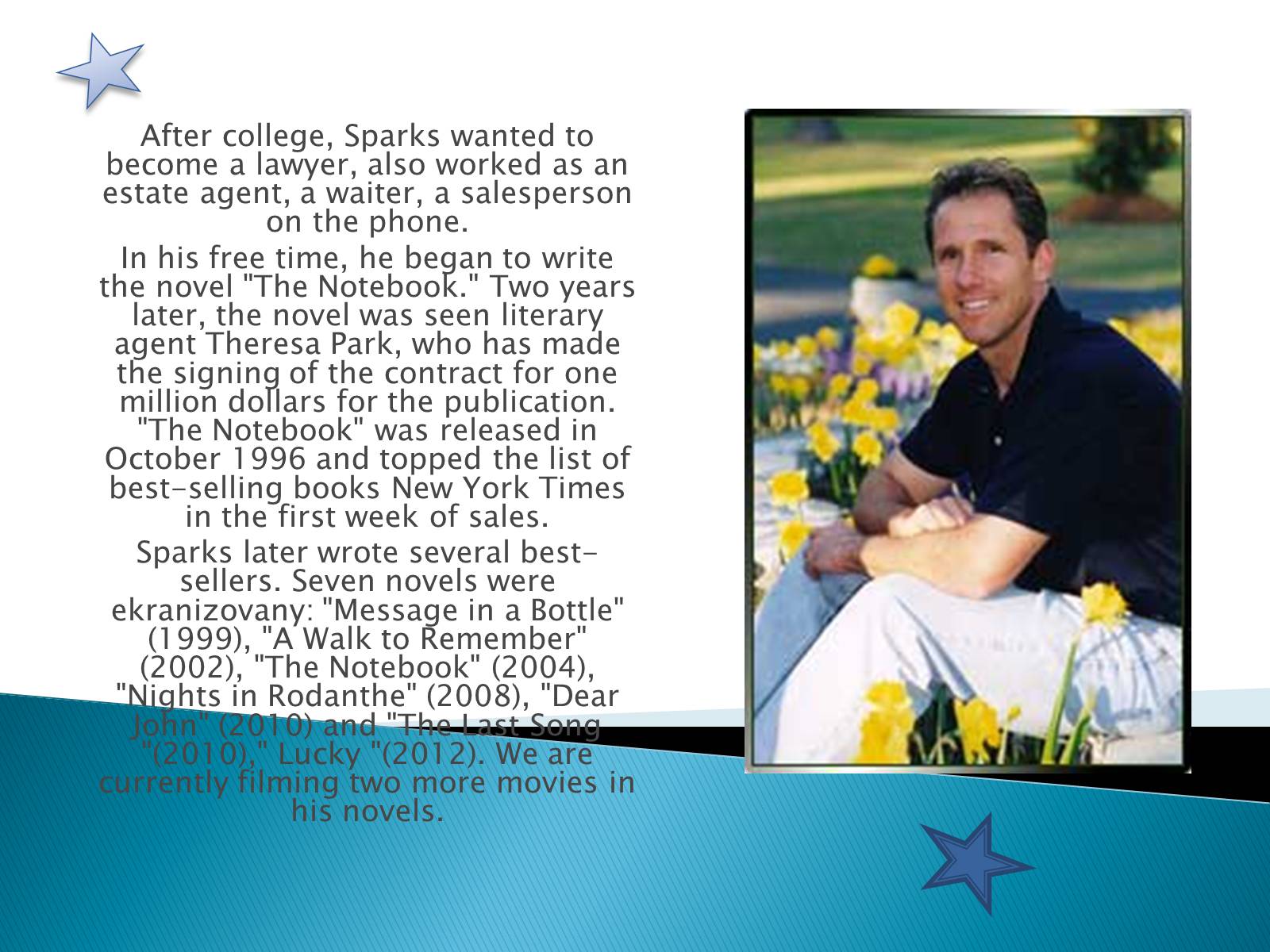 After college, Sparks wanted to become a lawyer, also worked as an estate agent, a waiter, a salesperson on the phone.
In his free time, he began to write the novel "The Notebook." Two years later, the novel was seen literary agent Theresa Park, who has made the signing of the contract for one million dollars for the publication. "The Notebook" was released in October 1996 and topped the list of best-selling books New York Times in the first week of sales.
Sparks later wrote several best-sellers. Seven novels were ekranizovany: "Message in a Bottle" (1999), "A Walk to Remember" (2002), "The Notebook" (2004), "Nights in Rodanthe" (2008), "Dear John" (2010) and "The Last Song "(2010)," Lucky "(2012). We are currently filming two more movies in his novels.
---
Arthur Asher Miller (born Arthur Miller; October 17, 1915 - February 10, 2005) - American playwright and novelist. In 1956-1961 he was married to actress Marilyn Monroe.Arthur Miller was born in 1915 in New York to a Jewish family of immigrants from Austria. His father owned a small business for the production of clothing, and his mother - a schoolteacher.In 1938 he graduated from the University of Michigan. After the Second World War, Miller began working reporter at Navy Yard in Brooklyn, New York, visiting military garrisons. Within six months he was collecting materials for the film Ernie Pyle's "History of the ordinary Joe."
Arthur Asher Miller
---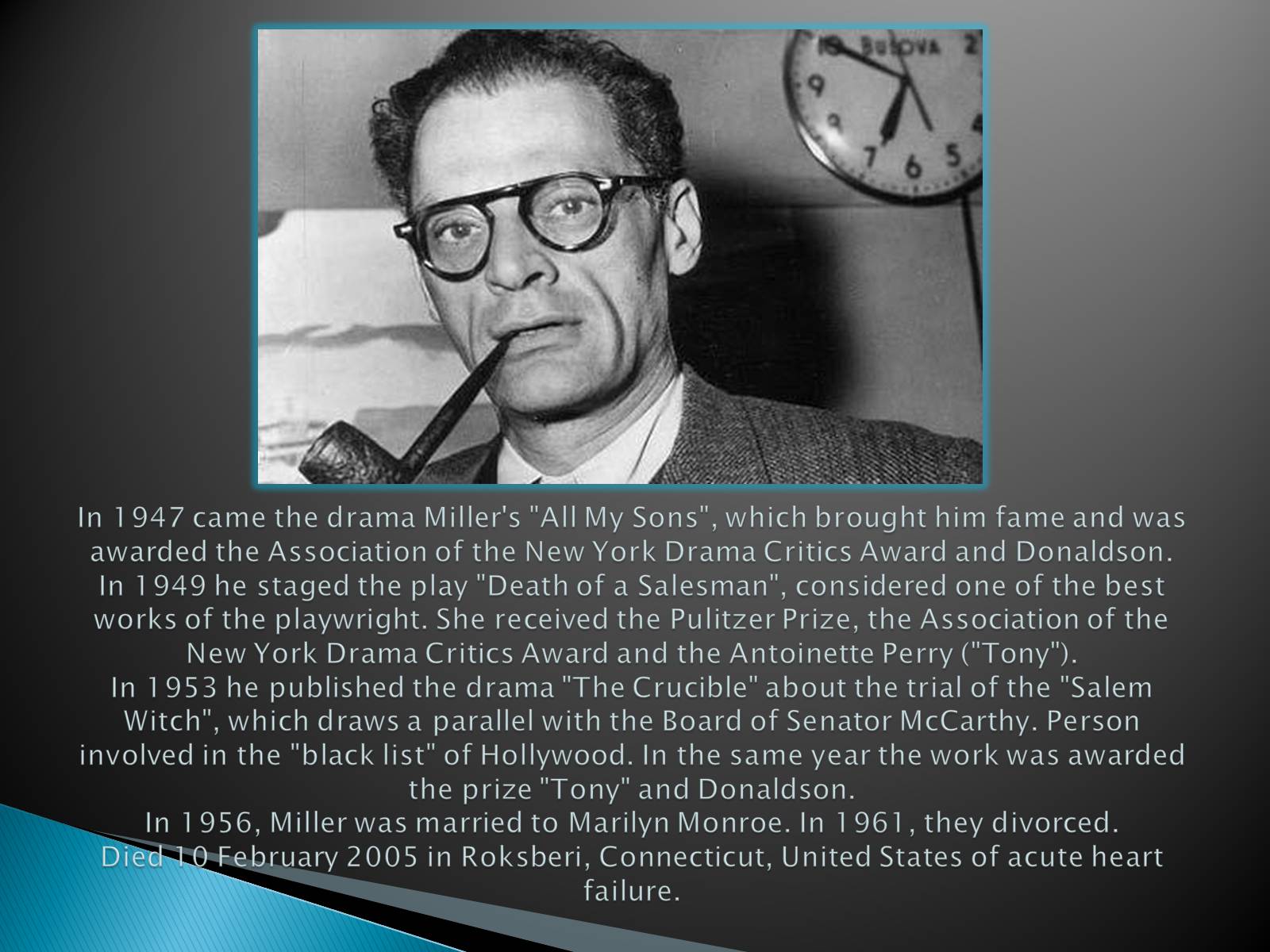 In 1947 came the drama Miller's "All My Sons", which brought him fame and was awarded the Association of the New York Drama Critics Award and Donaldson.In 1949 he staged the play "Death of a Salesman", considered one of the best works of the playwright. She received the Pulitzer Prize, the Association of the New York Drama Critics Award and the Antoinette Perry ("Tony").In 1953 he published the drama "The Crucible" about the trial of the "Salem Witch", which draws a parallel with the Board of Senator McCarthy. Person involved in the "black list" of Hollywood. In the same year the work was awarded the prize "Tony" and Donaldson.In 1956, Miller was married to Marilyn Monroe. In 1961, they divorced.Died 10 February 2005 in Roksberi, Connecticut, United States of acute heart failure.
---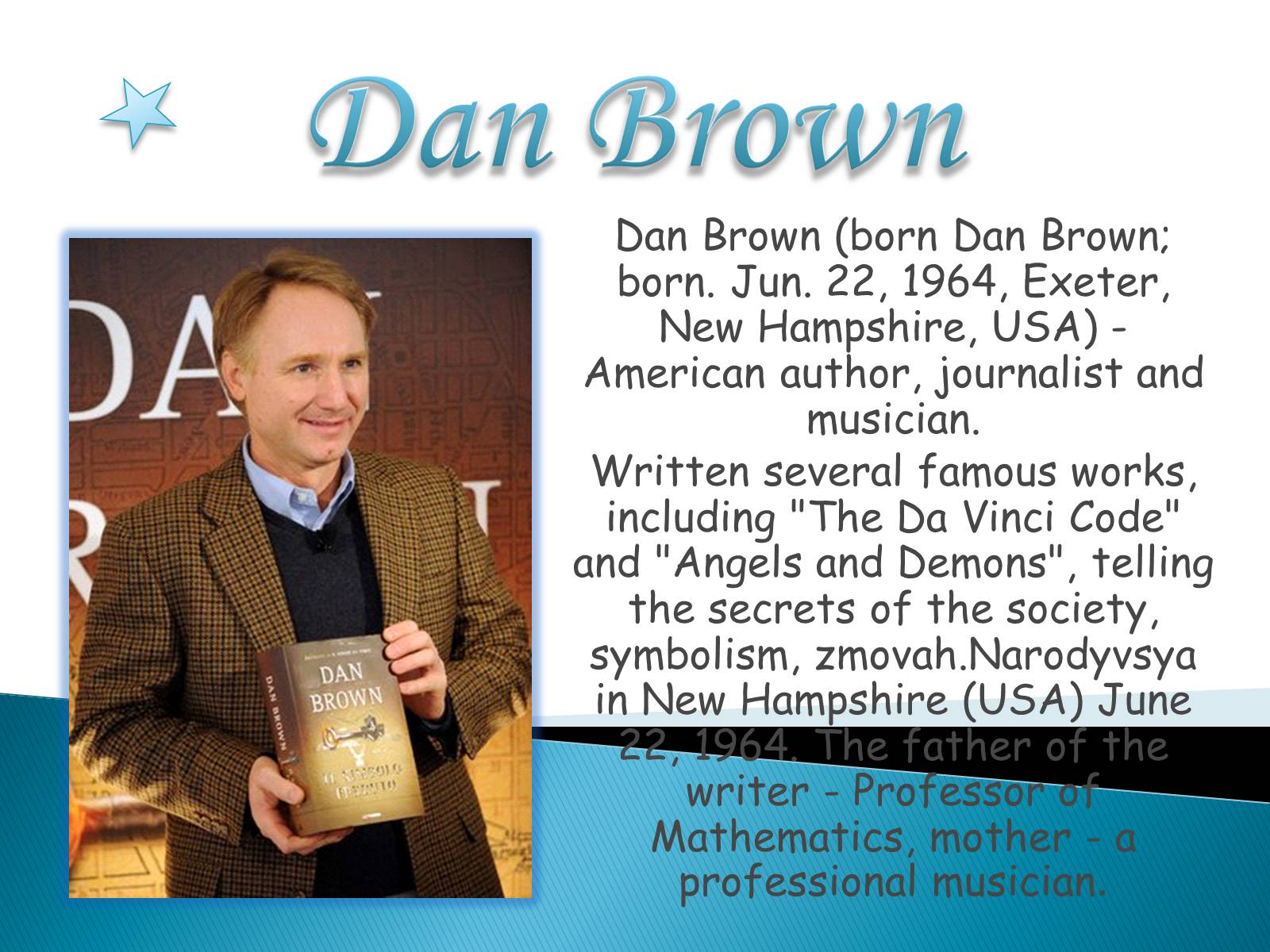 Dan Brown
Dan Brown (born Dan Brown; born. Jun. 22, 1964, Exeter, New Hampshire, USA) - American author, journalist and musician.
Written several famous works, including "The Da Vinci Code" and "Angels and Demons", telling the secrets of the society, symbolism, zmovah.Narodyvsya in New Hampshire (USA) June 22, 1964. The father of the writer - Professor of Mathematics, mother - a professional musician.
---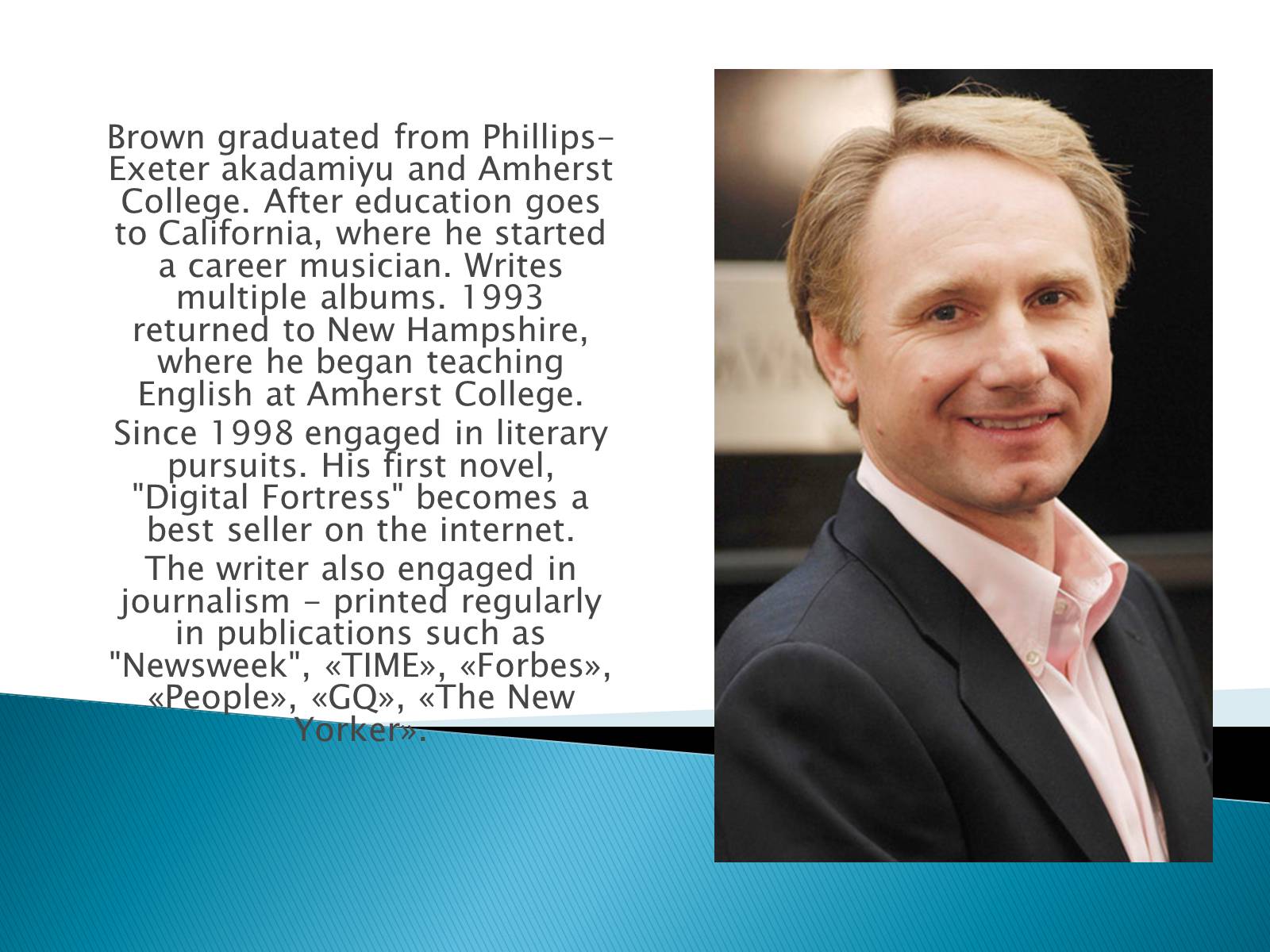 Brown graduated from Phillips-Exeter akadamiyu and Amherst College. After education goes to California, where he started a career musician. Writes multiple albums. 1993 returned to New Hampshire, where he began teaching English at Amherst College.
Since 1998 engaged in literary pursuits. His first novel, "Digital Fortress" becomes a best seller on the internet.
The writer also engaged in journalism - printed regularly in publications such as "Newsweek", «TIME», «Forbes», «People», «GQ», «The New Yorker».
---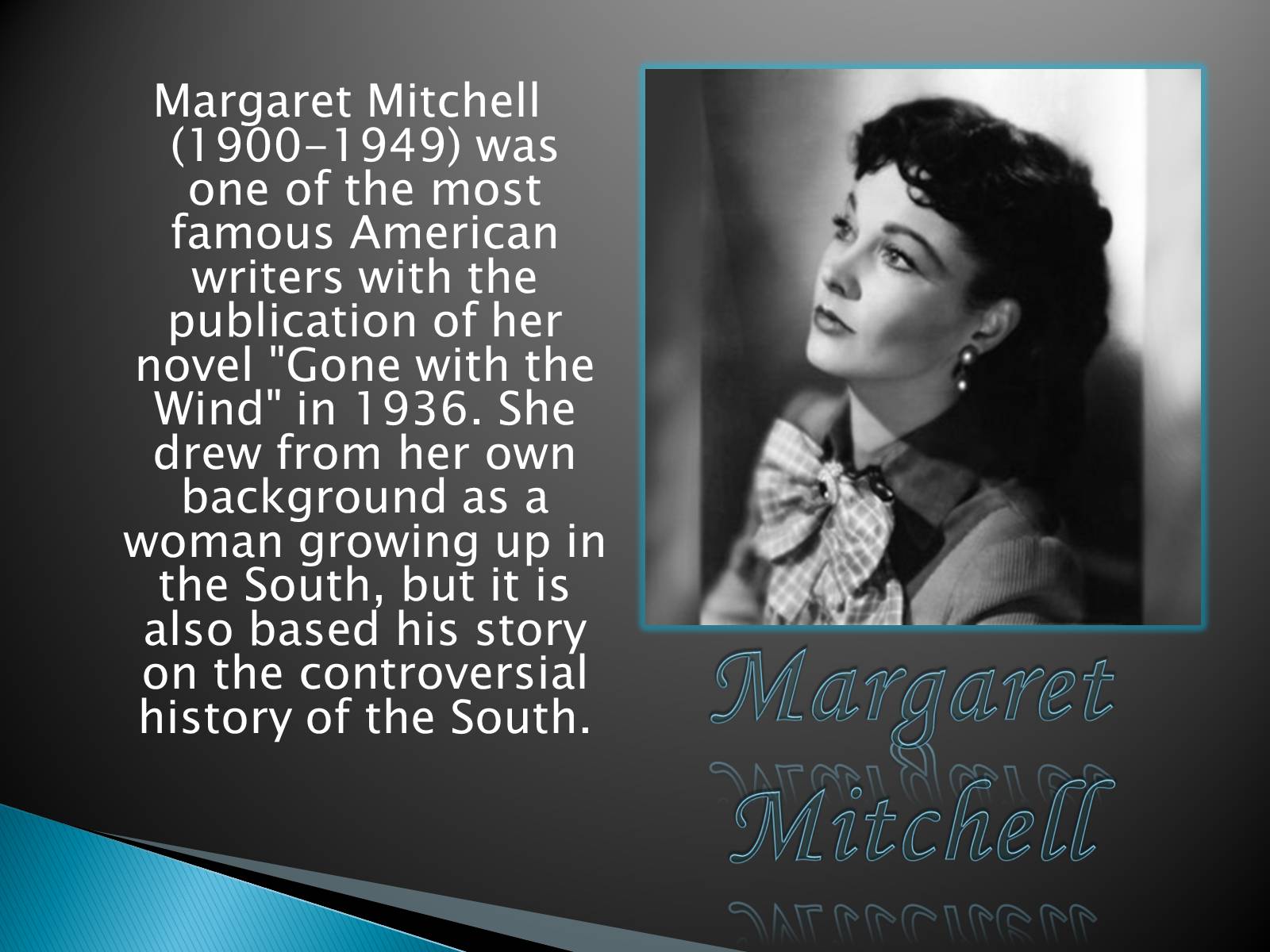 Margaret Mitchell (1900-1949) was one of the most famous American writers with the publication of her novel "Gone with the Wind" in 1936. She drew from her own background as a woman growing up in the South, but it is also based his story on the controversial history of the South.
Margaret Mitchell
---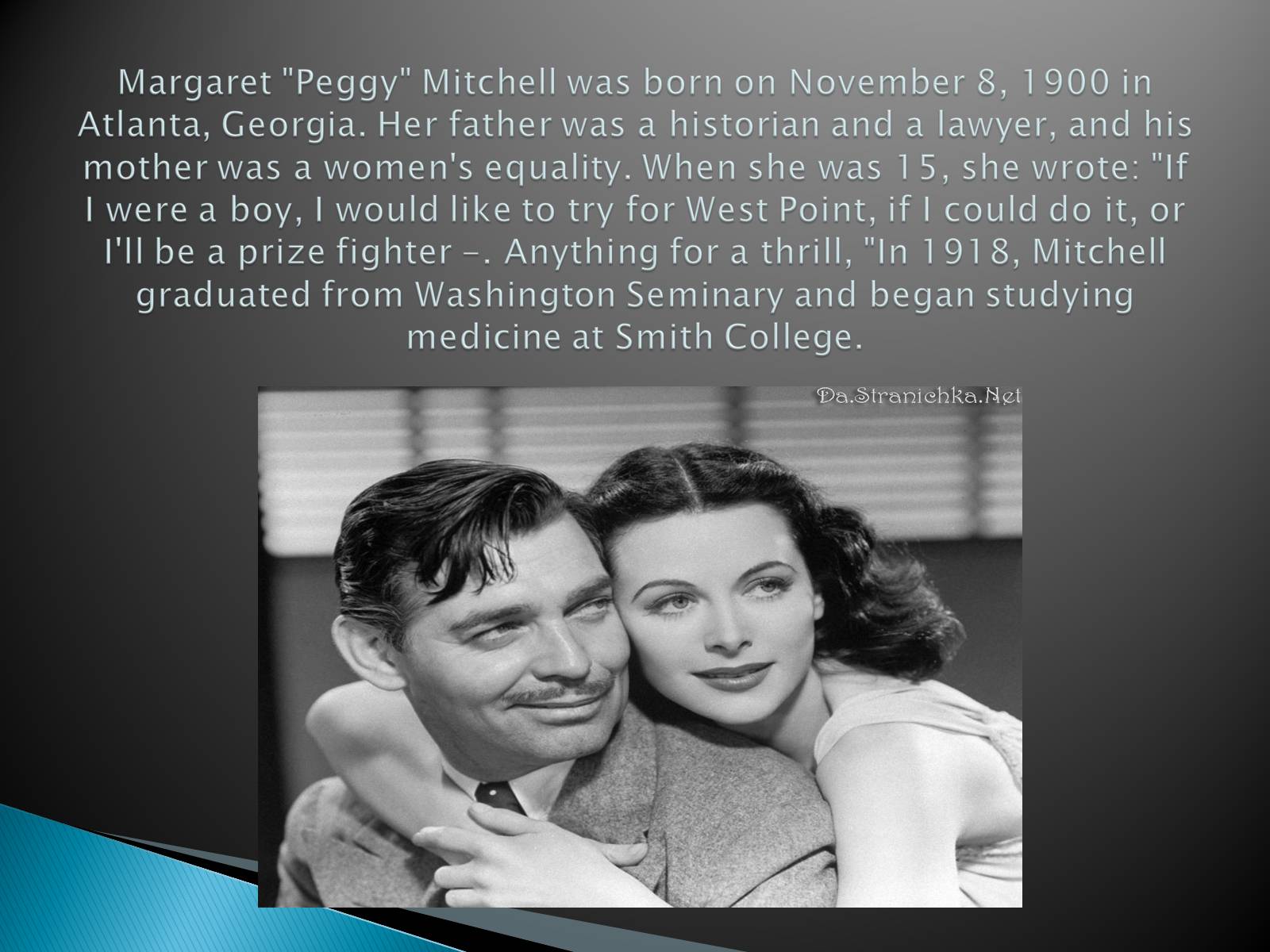 Margaret "Peggy" Mitchell was born on November 8, 1900 in Atlanta, Georgia. Her father was a historian and a lawyer, and his mother was a women's equality. When she was 15, she wrote: "If I were a boy, I would like to try for West Point, if I could do it, or I'll be a prize fighter -. Anything for a thrill, "In 1918, Mitchell graduated from Washington Seminary and began studying medicine at Smith College.
---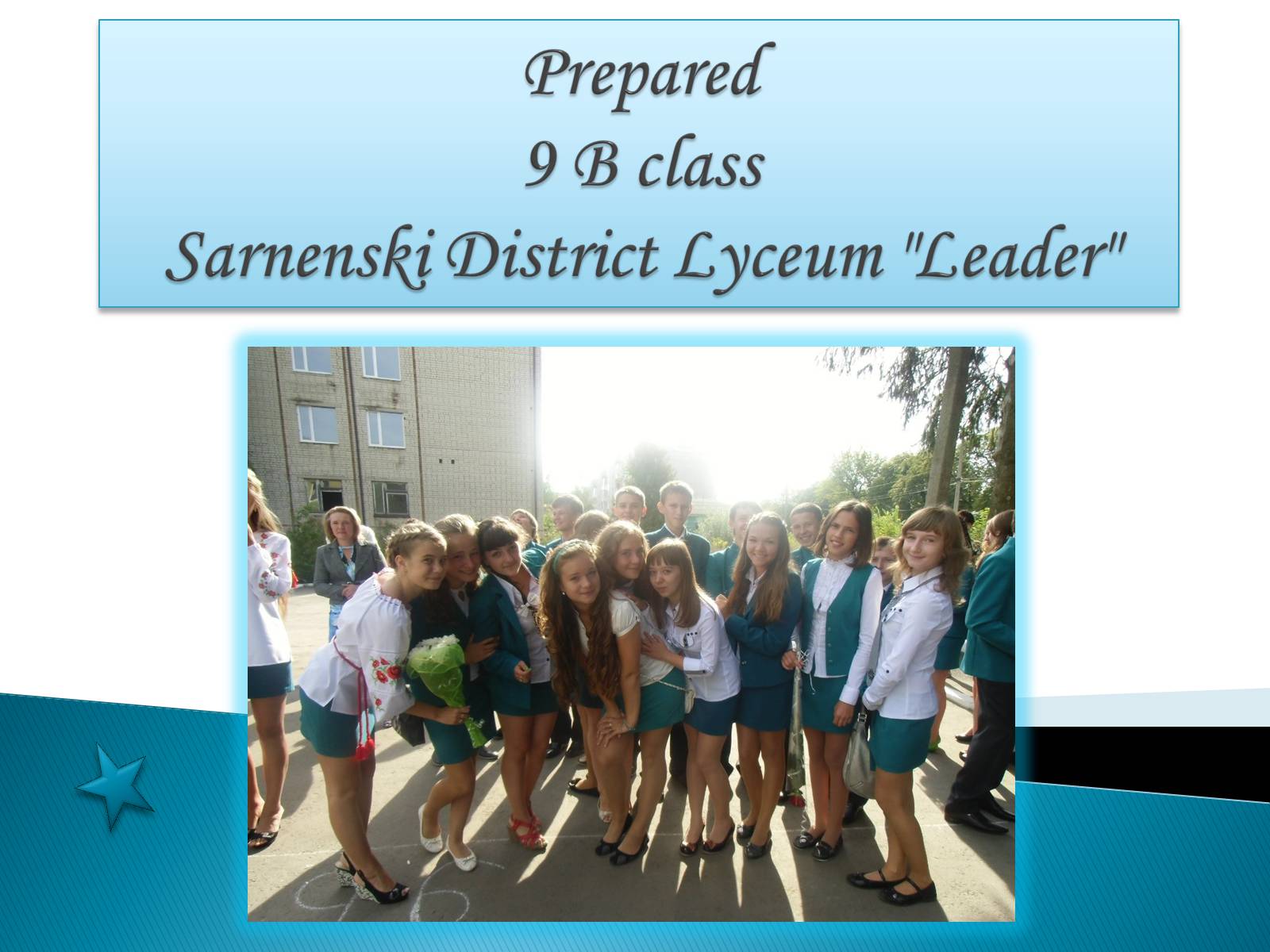 Prepared9 B classSarnenski District Lyceum "Leader"
---
Завантажити презентацію